Our People at Merry Maids of Seattle
Your Local Merry Maids
Are you looking for vaccinated house cleaning providers? Please contact our office to learn about our COVID-19 accommodations.
Keeping your home clean is an easy way to cut down on dust and bacteria that can cause illness or aggravate allergies. Unfortunately, cleaning can be a tedious and time-consuming task that most people don't look forward to. By leaving your house cleaning needs to the team at Merry Maids, you can enjoy a clean and sanitary living space without having to spend the time and energy cleaning it yourself. Our team based in Seattle, Washington, cleans houses in all areas of the city, from the iconic Space Needle to Pike Place Market.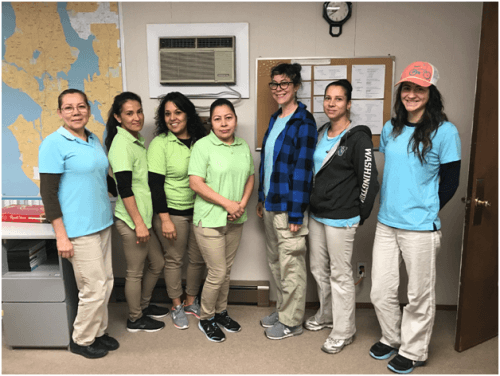 Get Great Discounts on Scheduled Services. Having a clean home doesn't have to cost a fortune or take up all of your time and energy. We offer comprehensive, custom house cleaning services at reasonable rates. Whether you get a one-time cleaning or regularly scheduled visits, we provide top quality services that anyone can afford. Be sure to take advantage of our current discounts as well. You can save $20 on each of your first five scheduled cleaning visits or $25 off a one-time cleaning.
Trustworthy and Skilled Professionals
When you invite a stranger into your home, it's important to make sure they're trustworthy. As a reputable cleaning company, it's our job to ensure that all of our cleaning employees are honest and trustworthy professionals. We make sure to perform complete background checks and drug screens on all of our employees, so you don't have to worry about who's in your home.
Benefits of Regularly Scheduled Cleaning
Maintaining a clean home requires regular effort, and we recommend frequently scheduled cleanings to keep your home looking and feeling tidy and sanitary. Whether you need weekly, bi-weekly, or monthly house cleaning visits, we can accommodate virtually any need. During each visit, our cleaning professionals tidy the home, clean and sanitize all surfaces, vacuum and sweep each room, and perform any additional cleaning services you request.
Contact us today to schedule regular house cleaning services. We're proud to serve clients in the Seattle and Ballard, Washington, areas.