About Merry Maids of Charlotte
Are you looking for vaccinated house cleaning providers? Please contact our office to learn about our COVID-19 accommodations.
We Put The Extra In Your Ordinary®
Welcome to Merry Maids of Charlotte, a house cleaning service designed around the concept that people should spend less time cleaning and more time doing the things they love. Restoring balance to your life is what drives our business, and we thrive on creating a clean, healthy, and safe living space for our customers.
When you can sit back, relax, and enjoy the comforts of your home, we know we've done our jobs right. That's what putting the extra in your ordinary is all about!
Meet Your Local Cleaning Team
Our team members at Merry Maids of Charlotte are our greatest asset and the reason we continue to be the preferred cleaning service among residents throughout the community. Every one of our team members goes through an extensive background check and week-long training program prior to joining the team, because we are committed to selecting individuals whose beliefs and work ethic match that of the Merry Maids® brand.
Meet our team: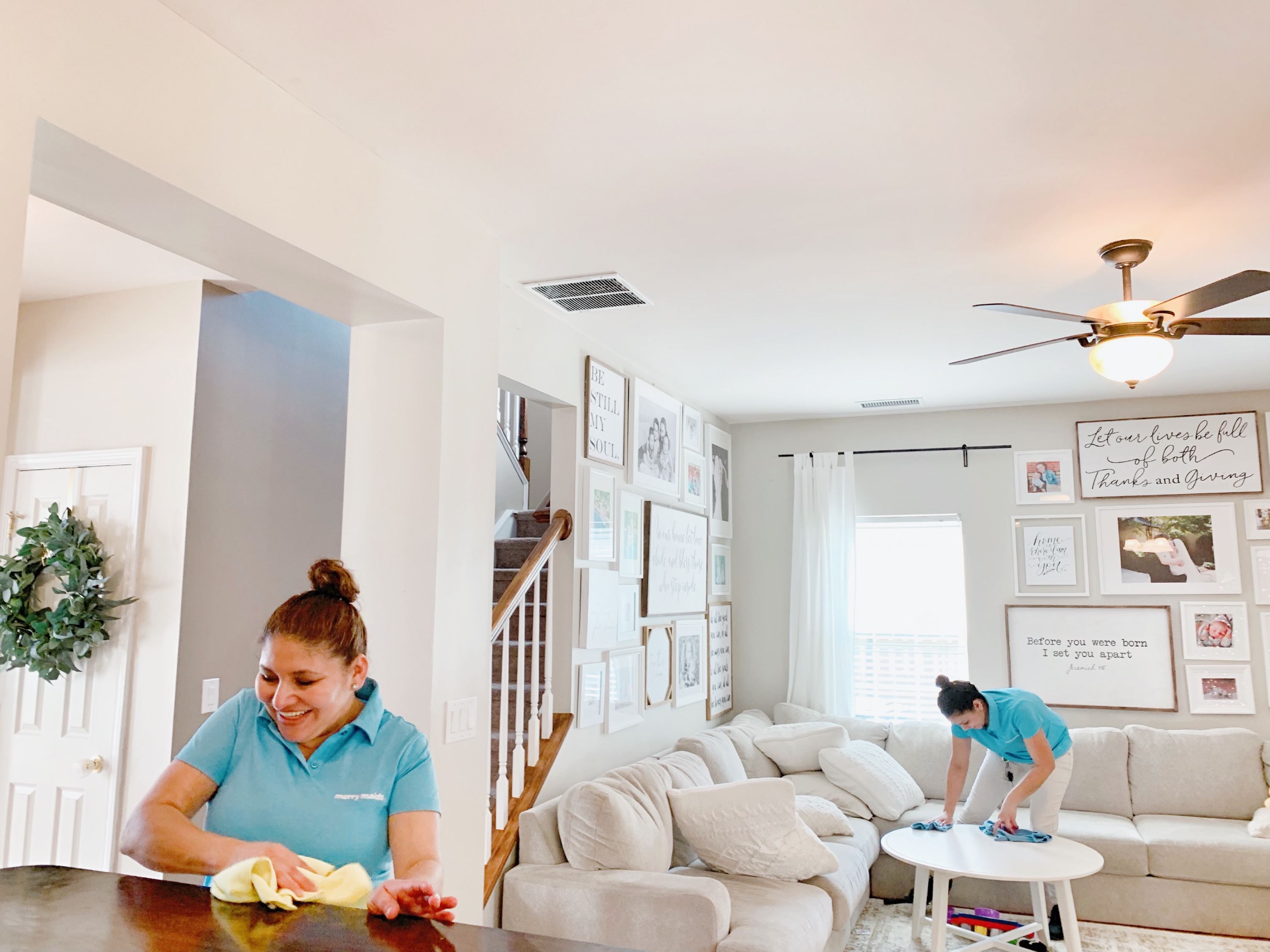 Our Company History
Merry Maids of Charlotte is a proud part of the Merry Maids® brand at large, whose history dates back to 1979 when the original location was first opened in Omaha, Nebraska. Since then, the company has expanded to cities across the U.S., including our very own right here in Charlotte.
A little bit about our start:
Joe & Denise Litzelman purchased Merry Maids of Charlotte in 1995. As a family owned business, our goal was to create better lives for our clients and our employees. Starting with just a couple of employees and clients, we now proudly serve over 500 clients in Mecklenburg & Union Counties. We know no two clients are the same, which is why we get to know our clients personally. We want to know how you like your bed made, just as much as we want to know your dog's name.
In 2011 Joe & Denise's daughter Jenny joined the business. After Joe passed away unexpectedly in 2012, Jenny assumed ownership with Denise. Not only are we a family business, we are a woman owned business. In addition to Jenny & Denise, our clients also have the pleasure of working with our admin team, Karolina & Diana. Karolina is our franchise manager and has been with the company for 13 years. With a background in business and an MBA, Karolina's passion is customer service. If you have ever called our office, chances are you have had the pleasure of speaking with Karolina. You have probably have also had the pleasure of speaking with Diana. With an MA in Human Resources and 5 years with the company, Diana is passionate about the business and the employees who clean your home. Last but not least, our office mascot is Shay, Jenny's dog. Shay comes to the office every day, warmly greeting every employee and client he meets. He specializes in naps and kisses, and has been with Merry Maids for three years.
We take pride in being a company that values diversity. From Poland to the Dominican Republic to Venezuela, our team hails from ten different countries. Our favorite saying is, "we all smile in the same language." Our employee spotlight this month is our 2019 "Team Member of the Year" winners Nuvia & Rosa. Nuvia has been a team captain for eight years, and Rosa has been with us for four years. Nuvia and Rosa are adored by their clients and the feeling is mutual. They were featured last fall on the blog "At Home with Natalie," by local lifestyle influencer Natalie Lesnefsky.
As one of the growing 485+ Merry Maids® locations across the country, we are honored to be your local experts in creating clean and healthy homes.
Cleaning Services Designed to Fit Your Lifestyle & Budget
We know you're busy, and we understand that finding time to accommodate cleaning professionals in your home shouldn't be another thing you have to worry about. That's why we offer affordable and convenient cleaning services that work around your schedule. Whether you're looking for weekly, bi-weekly, or monthly cleanings, we are happy to coordinate with you on the best time and day to complete the job – because your cleaning services should fit your time and budget. We wouldn't have it any other way.
Our specialty cleaning services include:
Green Cleaning
Kitchen Appliance Cleaning
Interior Cabinet Cleaning
Dishwashing Service
Experience the Merry Maids® Difference
Our Worry-Free Guarantee means we are committed to making sure you are 100% satisfied with your cleaning service. If for some reason you're not, you can call us within 24 hours of your last service and we'll gladly return to make it right at no additional charge! Other perks of working with our local team include:
Licensed, bonded, and insured professionals
Specialized cleaning products for your health and safety
We're ready to build your customized cleaning plan! Call us at (704) 764 - 1025 or contact us online for your free estimate.