House Cleaning Services in Reading, PA
Expert House Cleaners Near You
Tired of being a victim of your endless to-do list? It's time to break free of household chores with the help of Merry Maids of Reading We are a house cleaning service in Reading that focuses on your home so that you can enjoy your life.
Why Choose Merry Maids of Reading?
We are backed by a name with 40 years of experience and don't just clean homes—we declutter lives. It's time to live in the moment and leave the housekeeping to the professionals. We're the top choice for locals looking for "house cleaning services near me"!
Our house cleaning company in Reading PA is available with maid service when you need housekeeping & deep cleaning services near me for your Reading home or commercial property.
Call our Reading PA cleaners near you today at (610) 572-2105 Or schedule your maid service online.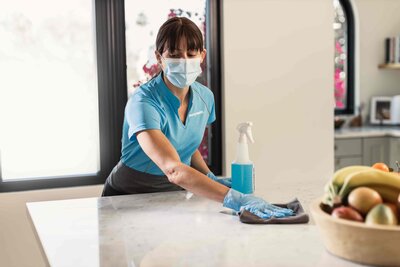 House Cleaning in Reading
Our Professional Reading house cleaners offer regularly scheduled visits to clean, dust, vacuum and mop your home to keep it looking its best. Recurring house cleaning services are an ideal solution for those who want a consistently neat and tidy living space with minimal effort on their part.

Maid Cleaning Services
Recurring maid services typically include basic cleaning tasks such as dusting, vacuuming, mopping floors, sanitizing surfaces and bathrooms, wiping down countertops and appliances, emptying trash cans and changing linens. Depending on the specific package you select for your home or office space, additional services may be provided such as deep cleaning of carpets or furniture upholstery; window washing; laundry service; organization of closets/cupboards/drawers; pet care duties like walking dogs or feeding pets. The regular maid service can also provide special requests to help make sure that your living environment is kept clean according to your standards.
Our Full List of Services