Islip Move Out Cleaning
Professional Move In Cleaning Services
When you've finally gotten everything packed up and hauled out of your home, you're ready for the next adventure. Don't waste time going back to tidy everything back up – call (631) 358-5481. Our professional cleaners will take care of cleaning up every bit of your place for the next person so you can focus on what matters most, settling into your next home.
Experience the Merry Maids® difference with:
Free cleaning quotes with transparent pricing
Worry-free guarantee after all cleaning sessions
Locally run cleaning service backed by a nationally recommended brand
Fully bonded and insured cleaning professionals who receive specialized training
Over four decades of experience providing immaculate results
Regular special offers to keep your budget in check
We deliver fully customizable cleaning services to fit every need you have, bringing all the supplies necessary to get the job done right. You'll know how many team members are in your home and have consistent communication to confidently trust our respect for you and your possessions.
Apartment Move Out Cleaning Services in Islip
The last thing you want when you're busy dealing with the details of moving is to spend hours scouring your home or apartment rental. Not to mention being unsure if you're even cleaning well enough to keep your deposit. Let Merry Maids of Bayport take the stress out of moving with professional move-out cleaning services that'll leave the unit spotless.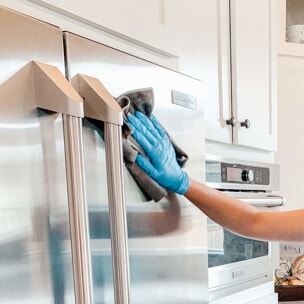 New House Cleaning Services in Bayport
Our trained cleaning experts in Islip and Suffolk County use top-of-the-line products and techniques to leave no corner or nook untouched. Conversely, if you're a property manager wanting to ensure a pristine rental for your next tenant, we go beyond a quick dusting and vacuuming to deep clean every aspect – inside of stoves, throughout window tracks, and on top of refrigerators and cabinets.
Moving Cleaning FAQs
Do you provide moving cleaning for landlords and property managers?
Yes! We provide cleaning services to landlords for apartments, condos, and other rentals.
Can you help me get some of my deposit back?
While we cannot guarantee that you will get your deposit back, we do know that having a carefully cleaned apartment helps bring a space back up to the required standard.
Do you provide make ready cleaning?
We provide make ready cleaning (also known as move in cleaning) for individuals who want their home free from dust and allergens before they arrive and begin unpacking.
What's the difference between a regular cleaning and move out cleaning?
With move out cleaning, rooms are usually emptied out of most furniture and valuables. This allows cleaners to focus on dusting, mopping, polishing, and cleaning floors.
Do you also provide cleaning for vacation rentals?
Book services that guarantee 100% satisfaction – call (631) 358-5481 or reach out online for move-out cleaning in Islip.
Base Hours: 2 - 5
Includes: Dusting, Mopping, Vacuuming, Windows
Merry Maids Recommends: Weekly or Bi-Weekly Cleaning