Eco-Friendly Green Cleaning Services in Islip and Bayport
We Use Only Merry Maids Essentials™ & SaferChoice™ Approved Products in Your Long Island Home
At Merry Maids of Bayport, we want to deliver the highest level of cleanliness, yet we want to do so in a manner that is safe and environmentally friendly. That's why we are proud to use Merry Maids Essentials™ cleaning products that deliver results without any harmful residue or odors. Our green cleaning professionals will never sacrifice quality and effectiveness and instead deliver spotless results that you can feel good about.
Merry Maids of Bayport is locally owned and backed by a nationally recognized brand with over 40 years of experience. We use advanced processes and industry-leading tools and products to ensure the best possible results for your home. Merry Maids Essentials™ is our line of maintenance products and includes a subset of products that are SaferChoice® approved. This means that they meet EPA-established guidelines. These strict guidelines include stringent criteria that must be met to earn this label. We settle for nothing but the best for our customers, their families, and their homes.
To learn more about our green cleaning products or to request a free estimate, reach out to us at (631) 358-5481.
The Benefits of Green Cleaning Products
A clean home is much more than tidy floors and spotless surfaces. Clean air is integral to a spotless, healthy space. Our SaferChoice® products are lower in volatile organic compounds (VOCs), which can aggravate allergies and asthma in some people.
Our products also:
Use less plastic packaging
Decrease carbon emissions
Are safer for use around kids and pets
Keep your air quality fresher
Are transparent about ingredients used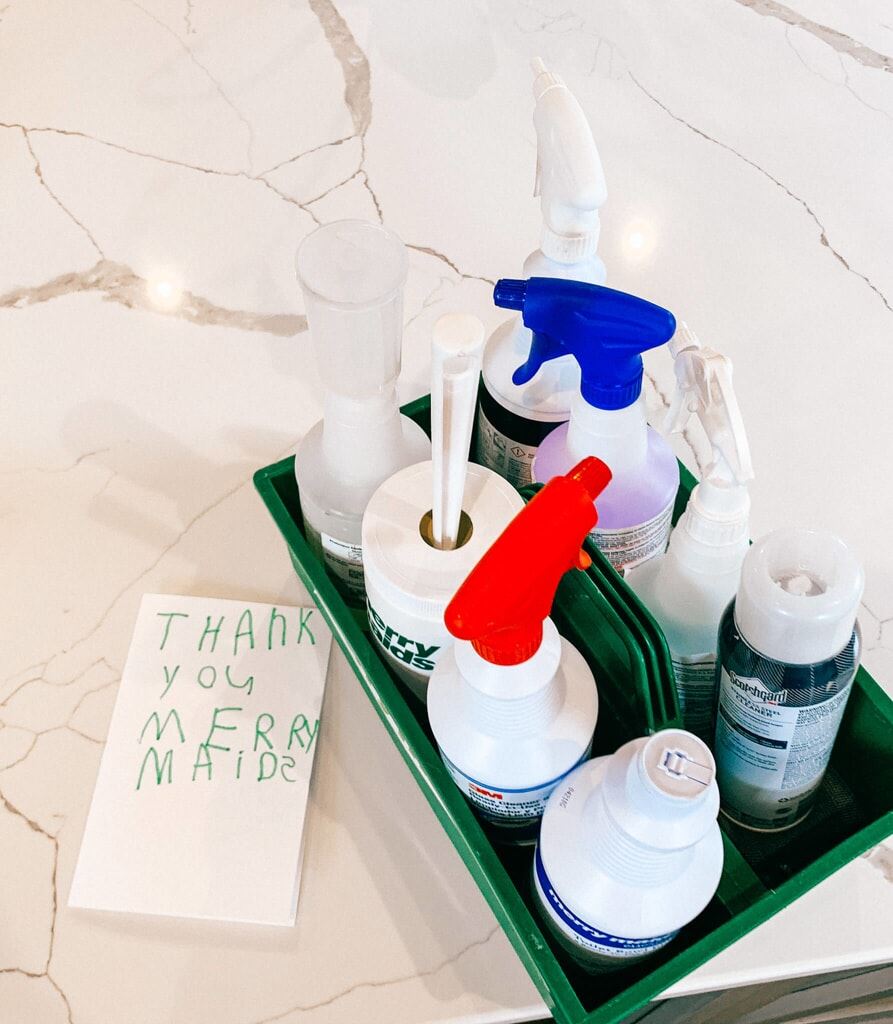 During our first visit, we will assess your home and may recommend a stronger line of products for the first cleaning to bring your home up to our high standards. With future cleanings, we'll then be able to maintain the level of clean we established the first time. Of course, we will always discuss this with you before we get to work.
Pet Friendly Cleaning
Our cleaning crew loves to say hello to your furry friends. (We are well aware that the shaggy ones are working hard to keep us busy.) Part of how we care for clients is by ensuring pets stay safe as well. Using non-toxic, green cleaning products around the home ensures that both humans and animals can enjoy playing on the carpet or lying on hard floors. Sometimes, good old fashioned natural products like vinegar or baking soda are a great option for their time tested safety, simplicity, and effectiveness.
We know that occasionally pets can make a big mess. Whether it's vomit, urine, pet hair, or odor, our green cleaning professionals can handle it. We know know how to lift stains and fight odors, all while using pet-safe products. Our team also has plenty of insights on how to keep your home looking and feeling fresh even with the most rambunctious animals. If you've ever wondered how to get pet fur out of your sheets in the wash, our team knows the way.
Check out reviews to see what clients are saying.
The Importance of Green Cleaning
Did you know that there also pollution inside your home not just outside your home? One of the biggest sources is dust, which gets trapped and continually circulates throughout your home. We take your home's cleanliness seriously by focusing on eliminating dust from your space. The best way to do so is using microfiber cloths, which capture dust instead of just moving it around as regular cloths do. Microfiber cloths are also longer lasting and require less energy to wash and dry. This helps Merry Maids of Bayport minimize our carbon footprint by creating less waste.
Our Islip eco-friendly cleaning team also uses vacuums that meet the Gold Seal standard of the Carpet and Rug Institute's Green Label certification* and advanced cleaning processes that ensure spotless results for every inch of your space. Customer satisfaction is our top priority, which is why we use only the best to deliver just that.
*Source: www.carpet-rug.org
Green House Cleaning Services with a Worry-Free Guarantee
When you hire the Merry Maids of Bayport team, you can sit back, relax, and leave the housework to our green cleaning team in Islip, Bayport, and Suffolk County, NY. To provide you with further peace of mind, we offer our Worry-Free Guarantee, which simply means that if you aren't 100% happy, let us know within 24 hours of our service and we'll return to make it right. We offer this guarantee because we are so confident that you'll be satisfied with the end result.
Our team will work around your schedule and can clean your home at a time and frequency that works best for you and your family. Cleaning isn't just something we do – it's all we do. Our professional team understands that every home and customer has unique needs and will adjust our services to accommodate them all.
To learn more about our Islip green cleaning services or to request a free estimate, give us a call at (631) 358-5481.
Base Hours: 2 - 5
Includes: Dusting, Mopping, Vaccuuming, Windows
Merry Maids Recommends: Weekly or Bi-Weekly Cleaning