Move In & Move Out Cleaning Services in Fredericksburg
Make Your Move More Enjoyable
For the past several decades, the Merry Maids brand has been providing industry-leading move out cleaning services to help customers have a smoother, simpler transition.
Whether you are moving out of your home or you are preparing to move in, our Fredericksburg cleaning professionals can help.
Learn more by calling (540) 227-0607 or feel free to read client reviews.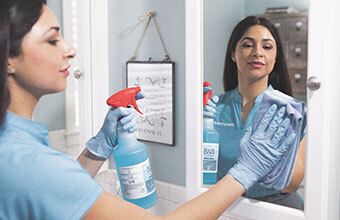 Move In Cleaning
Moving into a new home is an exciting time, but it can also be overwhelming. There's so much to do, and it can be tough to keep track of everything.
One of the most important things to do is to make sure your new place is clean and free of dirt, dust, and bacteria. Our move in cleaning experts are here to help take care of that for you.
We'll clean every nook and cranny, so you can focus on more important things like unpacking and making your new place feel like home. So contact our move in cleaning experts today and sit back, relax, and let us take care of the dirty work.
Move Out Cleaning
Moving out can be a very stressful time. Between making sure everything is clean, ensuring you get your deposit back, and moving all your stuff it can be overwhelming.
Our move out cleaning experts can make your moving process worry-free. We will come in and clean your apartment or house from top to bottom so that you can focus on the more important aspects.
If you're in need of an apartment move out cleaning, contact our move out cleaning services experts so you can be worry-free!
In need of move in and out cleaning services? Request a free estimate today!
Local Move In Move Out Cleaning Experts
Along with helping individuals moving into apartments, condominiums, homes, we also work with landlords, property managers, and realtors who need help with staging or with keeping their properties neat and tidy between tenants.
Popular reasons why locals hire Merry Maids of Fredericksburg during a move:
Our cleaning professionals are highly trained
Scheduling is easy and flexible
We offer a worry-free guarantee
We use industry-proven cleaning techniques
More Reasons to Let Merry Maids Clean During Your Next Move
Our team is often hired take care of the cleaning so that clients can focus on the details of their move. We work with many different clients including landlords and property managers as well as homeowners and renters.
Our Fredericksburg move in and move out cleaning includes:
A detailed moving cleaning checklist
Close cleaning for all areas including neglected spaces
Using highly effective cleaning products
Checking work against landlord requirements
Deep cleaning for removable marks and stains
If you feel like you are short on time or you just need a helping hand, our Fredericksburg cleaning professionals are available to assist.
We provide more than just a rudimentary sweep, vacuum, and dust. We scrub, polish, and wipe down every nook and cranny for a spotless clean.
To schedule your move out cleaning in Fredericksburg, give us a call at (540) 227-0607.
Base Hours: 2 - 5
Includes: Dusting, Mopping, Vacuuming, Windows
Merry Maids Recommends: Weekly or Bi-Weekly Cleaning