Our Team with Merry Maids of Greensboro
Congratulations to Our Trainer and 2018 Teammate of the Year Jenny Blackwell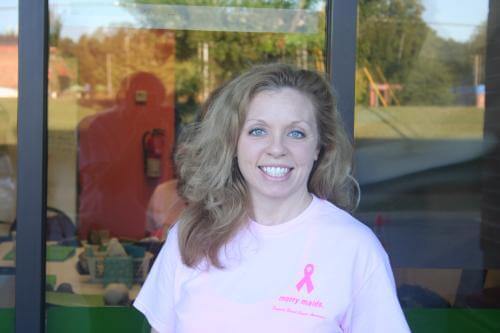 Jenny is an outstanding Teammate; demonstrated by delivering outstanding quality cleaning and customer service to every customer with a SMILE and laugh (regardless of home size or condition or payroll) - She reminds me of the Teammate concept we tried to develop in the "God made a Merry Maid" video. She exemplifies what we desire to share as owners. Jenny has been our Lead Trainer for 2 years and helped us build a team to achieve significant growth this year. During voting her co-workers said things like: "Jenny is always eager to work and goes above & beyond what's expected of her" and "Always happy and never in a bad mood, no matter what situation she is always smiling, a hard worker" and "sweet & dedicated" or "She is awesome and never complains about an extra house or helping out other teammates" and finally from the OA " I vote for Jenny! I think Jenny is the best Candidate because she is consistent and efficient. It is very rare that anyone has ever had a negative thing to say about her, her attitude or her cleaning. Jenny not only cleans but she also has been running the office on weekends as well! Jenny is just an all around Team Mate and Hard worker!"
Jenny willing accepts coaching and new training and ideas always looking for ways to improve her service as well as her training methods. She accepts responsibility for her actions and quality at all times. Steps up to help out others even before she is asked.
Jenny is our most requested Captain and maintains an annual NPS over 90% with an Employment record of 80% over 2 and half years with only 3 detractors and and 40 Promoters. If she receives a neutral she is sitting in the office waiting on me to call so she can talk to me & learn & understand the customer better and improve the next time. Customers have used words such as Professional, thorough, considerate, compassionate, detailed, conscientious, and refer to her "personal touch" on a regular basis.