Chalfont House Cleaning Services
Professional Cleaning Company Serving All of Bucks County, PA
Merry Maids® is a professional home cleaning service in Chalfont that gives you more. More time to enjoy the things you love, and a spotlessly clean space to return home to.
Backed by a name with 40 years of experience, we offer proven processes and thorough techniques that deliver exceptional results.
House Cleaning Service Tailored to Your Needs
From weekly, bi-weekly, and monthly maid services to one-time detailed cleanings, we'll customize a cleaning plan that perfectly fits your needs. It's time to live in the moment and leave the housekeeping to our professionals.
See how our cleaning company delivers exceptional experiences by providing real-time text updates!
Call us at (267) 214-2575 or request a free estimate online for Bucks County cleaning services you can rely on!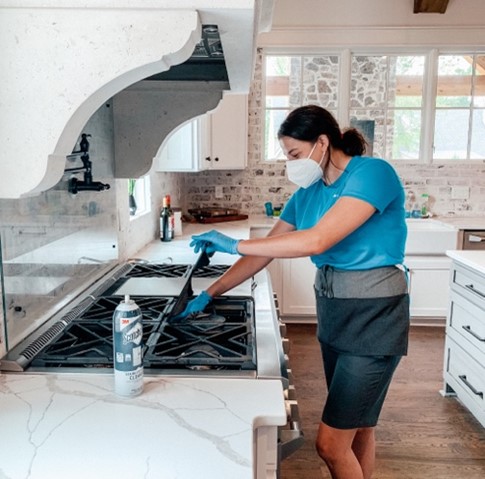 What services are included in deep house cleaning?
Deep house cleaning in Bucks County is an excellent way to give your home a thorough and comprehensive clean. It includes all the regular tasks of basic house cleaning, such as dusting, vacuuming and mopping floors, but goes much further in terms of detail.
Detailed house cleaning also involves scrubbing bathroom surfaces like tiles and toilets; polishing furniture; washing windows inside and out; removing cobwebs from ceilings or walls; emptying cupboards for a proper wipe down inside & out - plus so much more!
With deep house cleaning you can be sure that every corner of your home will sparkle with freshness!
About Chalfont, PA
Known by many names throughout its history, including Butler's Mill, Kungle's Tavern, Barndtsville, and Whitehallville, Chalfont earned its current name in the mid-1800s when the North Pennsylvania Railroad changed the name of the train station to Chalfont.
Our borough was officially incorporated in 1902. History buffs will enjoy visiting the Chalfont Historic District. The district features several Victorian-style and American colonial buildings. It's also listed on the National Register of Historic Places. Residents of and visitors to our borough spend time outdoors in the extensive Chalfont Park System, which offers 10 separate green spaces.
Our Full List of Services