Refrigerator Cleaning Services
Interior Fridge Cleaning
Over time, food and liquids will inevitably spill inside your refrigerator's shelves, racks, and drawers. If you neglect the steady buildup of spills and food debris for too long, the situation can get dire. Fortunately, Merry Maids® is ready to come to the rescue.
Our refrigerator cleaning service can make sure you have a clean place to store and cook your food by removing:
Food stains
Mold and grime
Liquid stains
Hardened food particles
Mysterious odors
Crumbs, dirt, and dust
Filthy door crevices
Dirty ice machines and water filters
Keeping Your Fridge Clean
A meticulous and thorough fridge cleaning can be quite a task. Let our professional technicians take care of the situation for you.
What's included in our fridge cleaning service:
Clear out your entire fridge to deep clean each nook and cranny
Scrub and rinse the shelves, crispers, deli bins, and drawers
Wipe down jars and bottles with microfiber towels
Help you discard expired food
Put everything back neatly and orderly to maximize organization and access
Use dynamic cleaning supplies and tools to reach parts of your fridge (gaskets, butter drawers, etc.)
Deodorize your refrigerator so that it smells fresh and clean
A detailed cleaning can transform any refrigerator. Our professional refrigerator cleaning service will have your appliance looking sparkling new. With regular house cleaning, we can even come every few months to keep your refrigerator spotless, sanitary, and pristine year-round.
Locate Professional Fridge Cleaning Near Me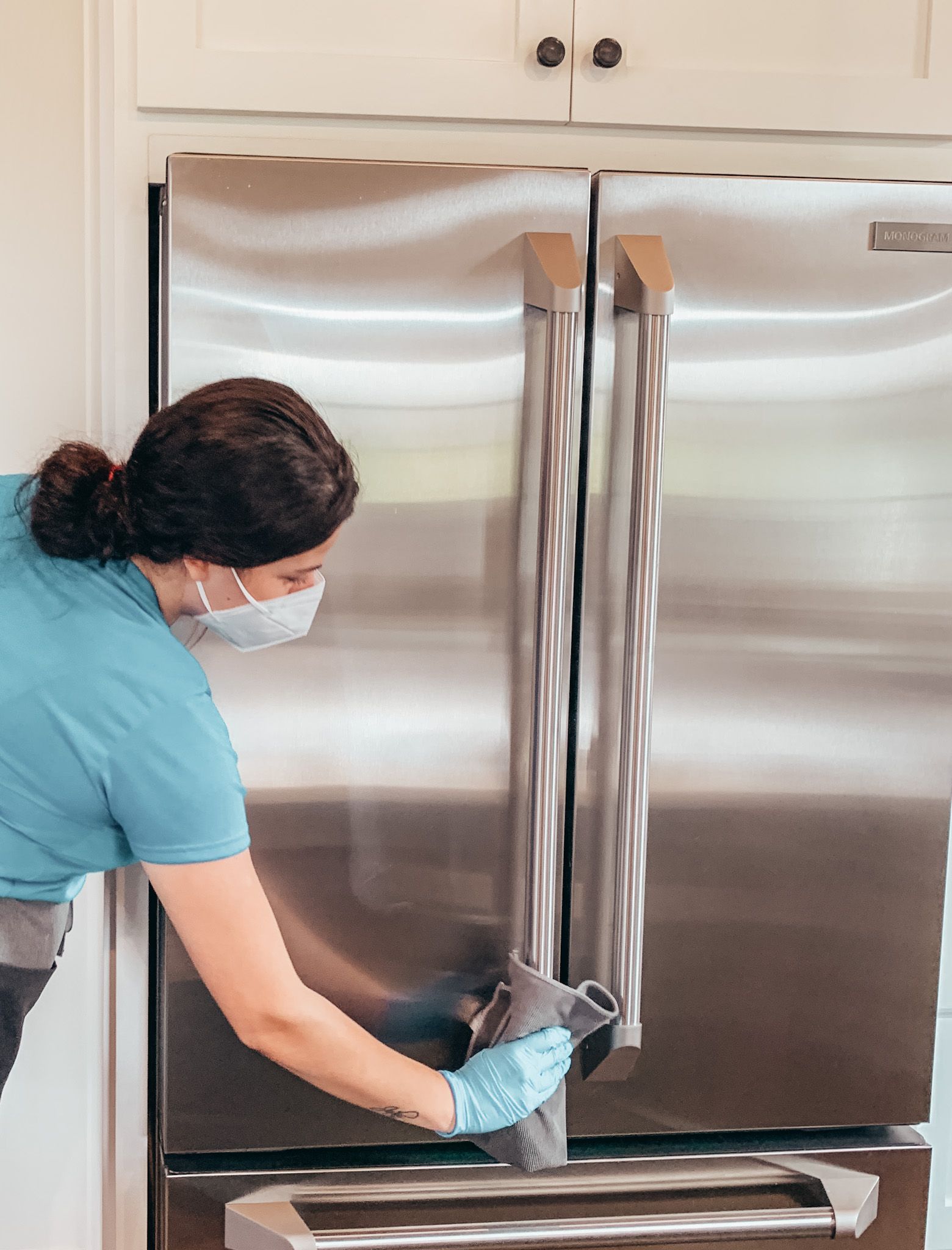 Ideas to Keep Your Fridge Fresh Longer
We recommend taking the following steps to keep your fridge looking spick and span for as long as possible:
Clean spills immediately
Empty storage containers and remove leftovers
Place food in closed Tupperware
Check expiration dates regularly and toss out spoiled items
Wipe down surfaces, drawers, and handles
If you want a deeper clean across your home and not just in your refrigerator, Merry Maids offers deep cleaning that can bring order and freshness to any room in the house.
To book routine interior appliance cleaning or to learn more about our fridge cleaning services, call (888) 490-4227 or contact us online today!
Merry Maids Recommends: Cleaning Every 3 Months