Home Organization
4 Organizational Hacks for the Trickiest Items & Spaces
From wrangling tangled wires under your desk to giving your mudroom some much-needed organizational TLC, it's easier to keep a space clean when everything has a designated place. No one knows that better than Command™ Brand. With products that are easy to apply and remove cleanly, Command™ Brand products make tackling any organizational project quick and painless. 
Our cleaning experts at Merry Maids® are partnering with 3M and Command™ Brand to bring you organizational tips for even the trickiest items and spaces in your home.  
1. Reorganize Under the Kitchen Sink by Installing Command™ Clear Small Hooks  
Under-the-kitchen-sink cabinets are valuable real estate that can be a challenge to organize because they often house numerous cleaning products and household supplies. With minimal room, it's important to maximize every inch of space. Installing Command™ Clear Small Hooks on the inside of cabinet doors and the interior walls instantly transforms the area. You now have a convenient place to hang items such as cleaning gloves, scrubbing brushes, and dishcloths while freeing up space for other items.  
To further brighten up your under-the-kitchen-sink space, add a battery-powered LED light so it's much easier to find frequently used essentials. 
For more tips on organizing under the sink, check out our blog.  
2. Declutter Laundry Rooms with Command™ Cabinet Caddy & Spray Bottle Hangers  
Whether you have a dedicated laundry room or laundry is located in another room in your house, optimizing this space can make life a little easier for the entire family. The Command™ Cabinet Caddy is an effective solution for creating a place for lint rollers or dryer sheets. Setting up multiple hampers or baskets labeled by laundry color or family member saves time and eliminates the need to sort through laundry constantly. 
Additionally, if you're like many laundry go-getters, you have an assortment of spray bottles for eliminating degrees of stuck-on stains. Easily and quickly attaching Command™ Spray Bottle Hangers to the wall ensures your most-used stain removers are out of sight, but still within reach. 
3. Tidy Up Tech with Command™ Cord Organizers 
From smart devices and laptops to headphones and video game consoles, it seems like our lives are overrun with miles of wiring. The ever-growing list of household electronics and accompanying cords and chargers to power these devices can quickly overwhelm anyone. Organizing these daily necessities saves space, ensures they stay in working condition, and might even allow you to unplug from them every once in a while. 
To help keep charger cords and other wires from turning into a heap of disorganization and tripping hazards, use Command™ Cord Organizers. This cost-saving and easy-to-install solution is excellent for home offices and entertainment areas. 
Some extra cord organizing tips include: 
Complete a cord audit: A great way to take your organizing to the next level is to complete a cord audit. Take stock of all the cords in your possession, which device they accompany, and how often they're used. House them in a single drawer or box and discard or give away the ones you don't need anymore. 

Try a wireless charger: In many cases, wireless chargers are an affordable solution for charging multiple devices in a single place. Keep in mind, some of your electronics may not be compatible with a wireless charger.  
4. Securely Store Your Broom and Mop Using Command™ Broom Gripper 
If you're like many people, it's normal to haphazardly discard your broom or mop in a closet or laundry area after use. However, when this becomes the norm, it can cause unnecessary wear and tear on these vital cleaning tools. With the Command™ Broom Gripper, your most-used supplies are out of the way but still easily accessible. Simply hang the Command™ Broom Gripper on a wall in your closet, laundry room, or mudroom, and let your broom or mop securely hang from its handle. This will get your cleaning supplies off of the ground to avoid damaging the bristles or mop head and keep them from collecting unwanted dirt and dust.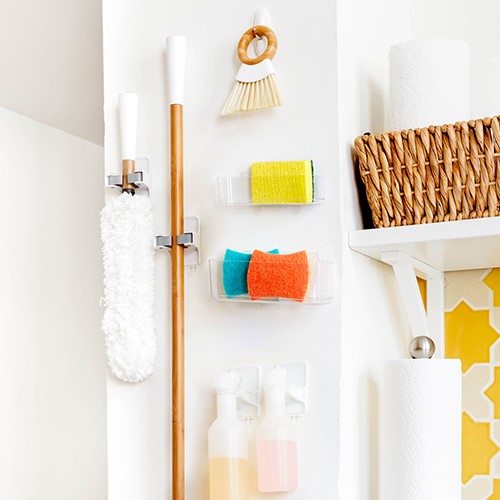 Our organizing and cleaning gurus at Merry Maids would love to help you with more organizational hacks to keep your life running smoothly.  
Contact us online today or call (888) 490-4227 for a free cleaning estimate and find out how we can put the function back into your home.