Maid Services in Peachtree City
Providing Exceptional Maid Services Across Coweta County & Fayette County
Base Hours: 2 - 5
Includes: Dusting, Mopping, Vacuuming, Windows
Merry Maids Recommends: Weekly or Bi-Weekly Cleaning
Searching for a reliable team of maids to give your home the deep clean it needs? Our maid service in Tyrone, GA can help you keep your home clean and ready for company.
When you work with the right team, you can be confident that all areas of your home will be addressed from your ceiling fan to the heating registers. Merry Maids takes pride in delivering a thorough and consistent house cleaning in Peachtree City and beyond.
For reliable maid services near you, reach out to our team today! You can request an estimate online or call (678) 552-2505.
Partner With Merry Maids of Coweta & Fayette Counties
We treat our clients and their property with respect. We're ranked the number one residential housekeeping services company in the nation, and we've won the Women's Choice Award in 2013 to 2015.
As members of the Better Business Bureau, we're pleased to offer a satisfaction guarantee. We want to provide you with excellent maid service, so we have:
An in-home analysis to better understand your needs
Bonded and insured employees
One-time and recurring services
Specialized services like enhanced disinfection

*Disinfection cleaning is only effective on hard surfaces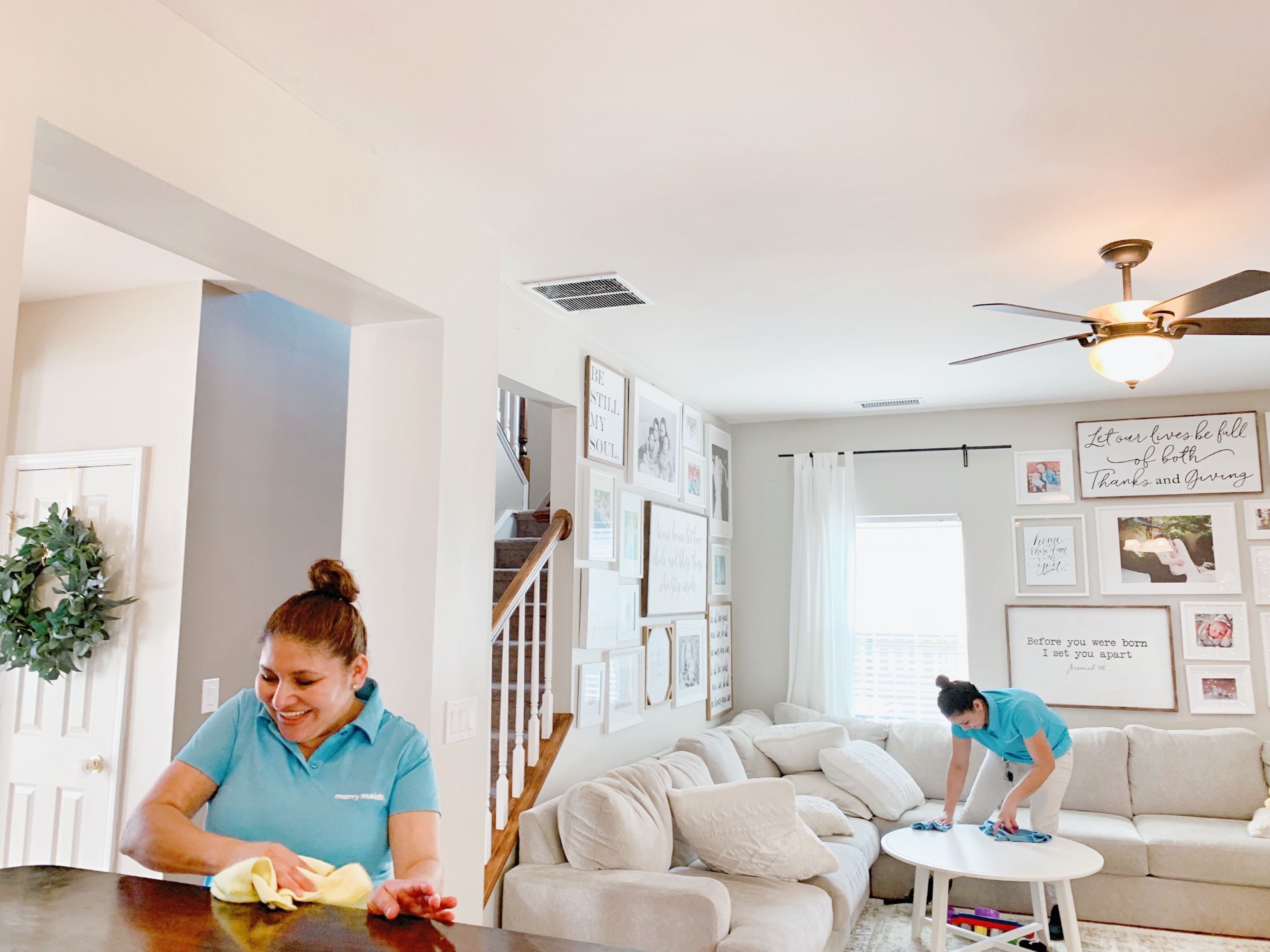 Let Us Handle the Hard Work
At Merry Maids of Coweta & Fayette Counties, we understand that life can get busy, and cleaning your home can often be the last thing on your to-do list. That's where we come in. Our team of professional maids is here to take care of all your cleaning needs so you can focus on the more important things in life.
With our maid services, you can expect:
Thorough and detailed cleaning of every room in your home
Customized cleaning plans tailored to your specific needs and preferences
Flexible scheduling options to accommodate your busy lifestyle
Trained and experienced maids who are dedicated to delivering exceptional service
Use of eco-friendly cleaning products and practices for a healthier home
Peace of mind knowing that your home is in the hands of trusted professionals
Whether you require occasional deep cleaning or consistent maintenance cleanings, our dedicated team has the expertise and resources to ensure your home is in impeccable condition. We understand that each home is unique, and we're here to tailor our services to your specific needs. Our goal is to keep your living space consistently refreshed so you can enjoy a clean and comfortable home without the hassle.
Contact our team by calling (678) 552-2505 or reach out online to schedule your maid service and experience the joy of coming home to a clean and fresh living space.
Benefits of Maid Services
Cleanliness is of utmost importance in both our physical and mental well-being. With the help of Merry Maids of Coweta & Fayette Counties's maid services, you can ensure that your home receives a high level of cleanliness with each visit. Some benefits of regular maid services include:
Giving you back time to do the things that you love. Let us handle the cleaning chores such as dusting, mopping, and vacuuming.
Ensuring that even hard-to-reach areas in your home are getting cleaned.
Improving the health of your home by reducing the spread of dust, dirt, and allergens.
Ultimately, Merry Maids of Coweta & Fayette Counties's maid services can help bring peace of mind—especially during busy moments when there may not be time to properly clean your household.
From dusting to bathroom cleaning, our maid services will make your home sparkle. Request an estimate or call (678) 552-2505 today.
Reliable Maid Services Near You
You could spend your free time scrubbing out every last corner in your home, or you can reclaim your valuable time by letting our maid service do it for you.
We've helped homeowners throughout Peachtree City, and they trust us because we know clean. Our friendly and professional house cleaning team members are ready to clean all areas of your home, so call Merry Maids of Coweta & Fayette Counties today.
come home to more Request Your Free Cleaning Estimate Now!