Green Cleaning Services in Flower Mound
Eco-Friendly House Cleaning Services Near You
Do you want a cleaner home without producing a negative ecological impact? Our Baton Rouge green cleaners have a unique line of products called SaferChoice® that are specially designed to fulfill the EPA's guidelines for what can be included in a green product category.
By using premium, ecologically-conscious products, you can feel confident that your home is cleaner and safer after every cleaning. Offering eco-friendly alternatives is one way our team remains dedicated to safety, sustainability, and shrinking our footprint on the environment.
For home cleaning services in Flower Mound, contact us at (469) 242-2763.
Our Line of Eco-Friendly Cleaning Products
Our professional housekeepers are trained to provide a deep clean that will leave your home feeling fresh. This is because we believe that you should not have to sacrifice quality in order to be environmentally responsible.
The green products we use are evaluated for sustainability and quality through several characteristics: how they perform, how they are packaged, their pH levels, their ingredients, their impurities, their transparency, and more.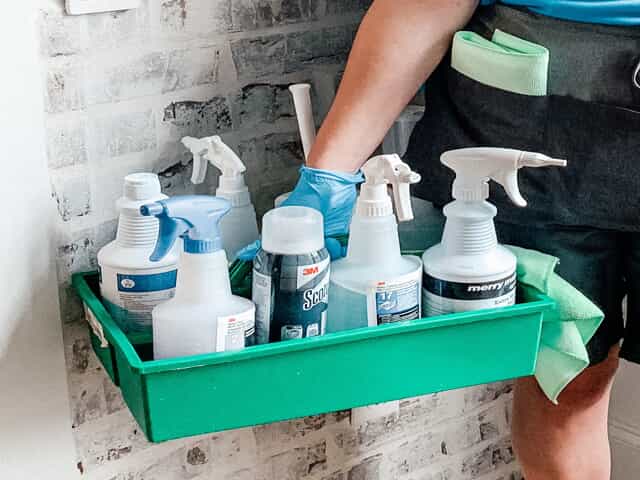 Going Green with Reduced Volatile Organic Compounds (VOCs)
Of the many traits that make our green products a smart option, the most important is their reduced VOC (volatile organic compound) content. People with allergies, asthma, and health sensitivities can be susceptible to irritation from exposure to VOCs.
Learn About Our Special Offers
Are Green Cleaners Effective?
You want a safer, more eco-friendly house cleaning option, but you still want your home to be clean. You want to be sure that green cleaning products are effective in removing grime and leaving your space spotless. Rest assured that our professional green cleaning services focus on safety and sustainability without sacrificing the quality clean you desire.
Choose the Benefits of Eco Green Cleaning Services
Green cleaning has become an increasingly popular option for people interested in reducing their use of toxic, non-biodegradable, non-carbon-neutral products. Merry Maids of Denton County provides more options for your home and family so that you can choose what works best for you.
Read reviews or get an estimate from our green cleaning company in Flower Mound at (469) 242-2763.
Base Hours: 2 - 5
Includes: Dusting, Mopping, Vacuuming, Windows
Merry Maids Recommends: Weekly or Bi-Weekly Cleaning