Housekeeping Services in Flower Mound, TX
Benefits of Hiring a Cleaning Service
There are many benefits to hiring a professional. For starters, a clean home can lead to a healthier lifestyle. With less germs lingering, homeowners are less likely to catch an illness. Additionally, clean rooms mean pests like rodents and insects aren't drawn to the home.
Here are some of the best reasons to hire one of our housekeepers in Flower Mound:
We offer eco-friendly alternatives to standard supplies.

These products are designed minimize allergies and prevent irritation for sensitive groups.

Our brand boasts 40 years of industry-leading experience.
Our brand has been ranked #1 in Residential Cleaning by Entrepreneur Magazine.
We take pride in our thoroughness, so we clean the spots that our competitors miss.
We will spend the time giving your home a detailed cleaning so you can focus on family, friends, and work instead.
We are highly rated on Google with 4.5 Stars!
Our testimonials describe our desire to put the client at the center.
We provide services across the Denton County region
We offer specials on regularly schedule cleanings
Our Flower Mound cleaning company provides flexibility with scheduling routine cleanings
We offer the "worry-free guarantee", which ensures you receive quality service
We offer housekeeping quotes online
Locals recommend our work for our commitment to quality with every clean
Housekeepers remove the stress of cleaning from your shoulders. Normally, thoroughly cleaning your home or apartment requires an entire day's worth of work. Even if you clean a little every day, dust still accumulates, and hidden spots continue to get dirty.
Merry Maids of Denton County offers a monthly, weekly, and daily housekeeping service that allows you to free up your time—when you would usually be cleaning, you can now focus on work or relax for the evening. Our housekeepers are experienced in cleaning every kind of room, whether in an apartment, house, or commercial building.
Learn more about our professional housekeeping services in Flower Mound by calling (469) 242-2763 or contacting us online today!
What Can Be Included in Housekeeping Services?
While one-time cleaning may be a good investment if you are preparing for holiday guests or you are moving into a new home, regular visits from our team is the better option for a year-round clean. Our housekeeping services in Flower Mound are designed to ensure that no matter what day of the week it is, your home is clean, organized, and ready for any occasion.
Our housekeepers can help out with the following:
Dishwashing Services
Laundry Loading & Unloading
Window Washing
Wall Washing
Decluttering and Organizing
Housekeeping is a great option if you have areas of the home that constantly get cluttered or dirty like the kitchen. Instead of visiting your kitchen and being greeted by stains, unwashed plates, and dirty appliances, you can walk into the room and actually enjoy it.
What Makes Housekeeping Cleaning Services a Good Investment?
At Merry Maids of Denton County, we always sanitize and scrub down bathrooms, mop hardwood floors, and vacuum and dust every room. This keeps each room in top condition, which lowers your risk of illness and irritated sinuses from allergens. We even have a line of green products for sensitive groups. It also creates a pleasant atmosphere where you can feel more comfortable.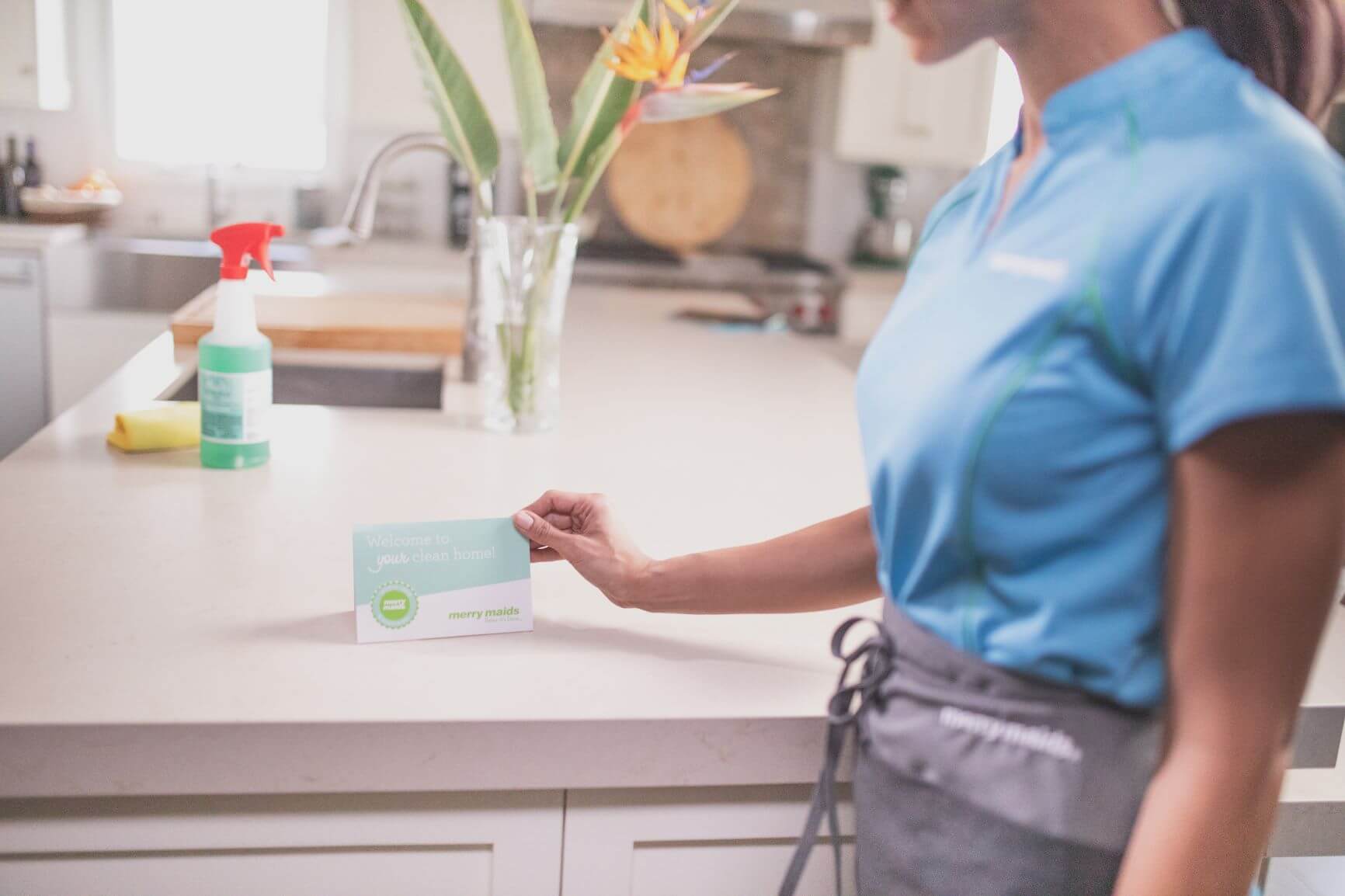 ​
Merry Maids of Denton County follows a routine based on our 40 years of experience, allowing us to clean all your rooms thoroughly and efficiently. Every bathroom receives the same quality service as the living room and kitchen, so you can rest easy knowing our housekeepers aren't cutting any corners.
Finally, an underrated factor that makes housekeeping a good investment is happiness. Not only is your time freed to spend however you want, but you can also rest assured that you'll always come home to a clean space—and that's a pretty good way to end the day.
Call (469) 242-2763 or contact us online to request your free estimate on high-quality housekeeping services in Flower Mound today!