Maid Services in Bel Air, MD
Keeping Your Home Clean & Healthy
Base Hours: 2 - 5
Includes: Dusting, Mopping, Vacuuming, Windows
Merry Maids Recommends: Weekly or Bi-Weekly Cleaning
You work hard, and you deserve the meticulous house cleaning service that Merry Maids provides. Our residential maid service is available to clients who want prompt, reliable assistance.
Our team members will customize their work to the needs of your home. Your satisfaction is guaranteed!
For maid service in Bel Air, MD, give Merry Maids of Harford County a call at (410) 394-9573 or request an estimate!
What Do Maids Do?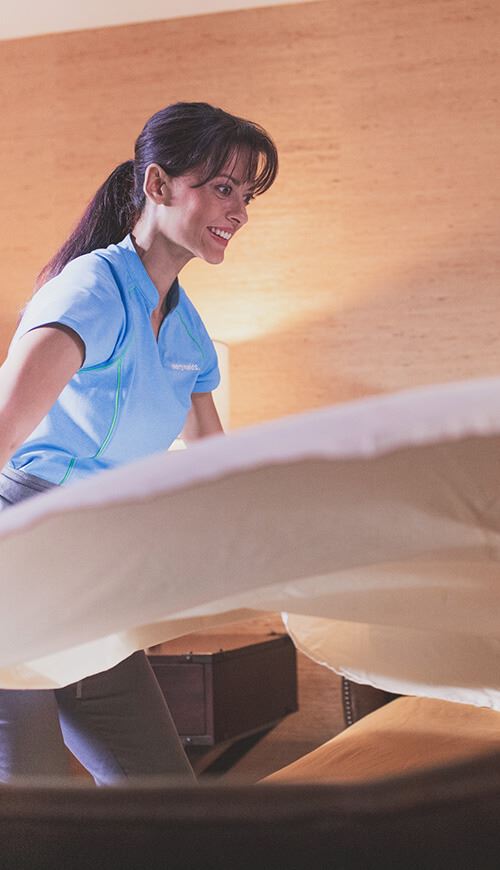 Maid provide house cleaning on a regular basis, typically ranging from once a week to a few times a month. Cleaners can make the home sparkle with routine cleaning, such as vacuuming and dusting, or give your home a more thorough deep clean that includes polishing and sanitizing surfaces.
With maid services in Bel Air, you can choose the frequency and type of labor done to make sure that your home is maintained to your standards. From scrubbing floors to tidying up rooms, maids are there to ensure that your space looks its best so you don't have to worry about it.
Cleaning Customized To Your Needs
Merry Maids of Harford County's customized maid services provide an exceptional level of care to our customers' homes. Our professional and experienced Bel Air cleanersare trained in industry best practices, providing a comprehensive approach to cleaning that is tailored to meet your exact needs. We offer:
Customized cleaning plans to meet your needs
Flexible scheduling - one-time, weekly, bi-weekly, or monthly maid services
Deep Cleaning
From scheduled housekeeping visits to deep cleans, we offer services to help you maintain the highest standards for a clean and healthy home year-round. Our commitment to excellence makes Merry Maids of Harford County the best choice for all of your home cleaning needs!
Request an estimate online or call (410) 394-9573 to get started with professional maid services near you.
Professional Cleaning Services in Hartford County, MD
Our house cleaning company is local, but our name is known for its long history of dedicated service nationwide. For one, Merry Maids is the winner of the Women's Choice Award. This means we're the most recommended detailed maid service in the U.S.
We'll base our services on your initial in-home consultation. That way, you'll get an estimate before we start cleaning—you won't have to worry about any surprises once the bill comes.
After approving the estimate, all you'll have to do is relax and wait for the joy of a spotless home that's cleaned your way.
A BBB-Accredited Maid Service Company
When you want a reputable maid service near you, choose Merry Maids.
We're highly rated by the BBB, and we're also bonded and insured for your protection and peace of mind. Contact our office today to learn more about our Bel Air cleaners.
Looking for reliable maid services? Request an estimate online or call our team at (410) 394-9573.
come home to more Request Your Free Cleaning Estimate Now!