About Merry Maids of Northwest Houston
Are you looking for vaccinated house cleaning providers? Please contact our office to learn about our COVID-19 accommodations.
We Put The Extra In Your Ordinary®
Welcome to Merry Maids of Northwest Houston, a house cleaning service designed around the concept that people should spend less time cleaning and more time doing the things they love. Restoring balance to your life is what drives our business, and we thrive on creating a clean, healthy, and safe living space for our customers.
When you can sit back, relax, and enjoy the comforts of your home, we know we've done our jobs right. That's what putting the extra in your ordinary is all about!
Meet Your Local Cleaning Team
Our team members at Merry Maids of Northwest Houston are our greatest asset and the reason we continue to be the preferred cleaning service among residents throughout the community. Every one of our house cleaners goes through an extensive background check and week-long training program prior to joining the team, because we are committed to selecting individuals whose beliefs and work ethic match that of the Merry Maids® brand.
Meet our team: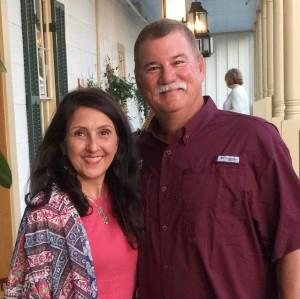 Owners Mary Lynn & Allen Brehm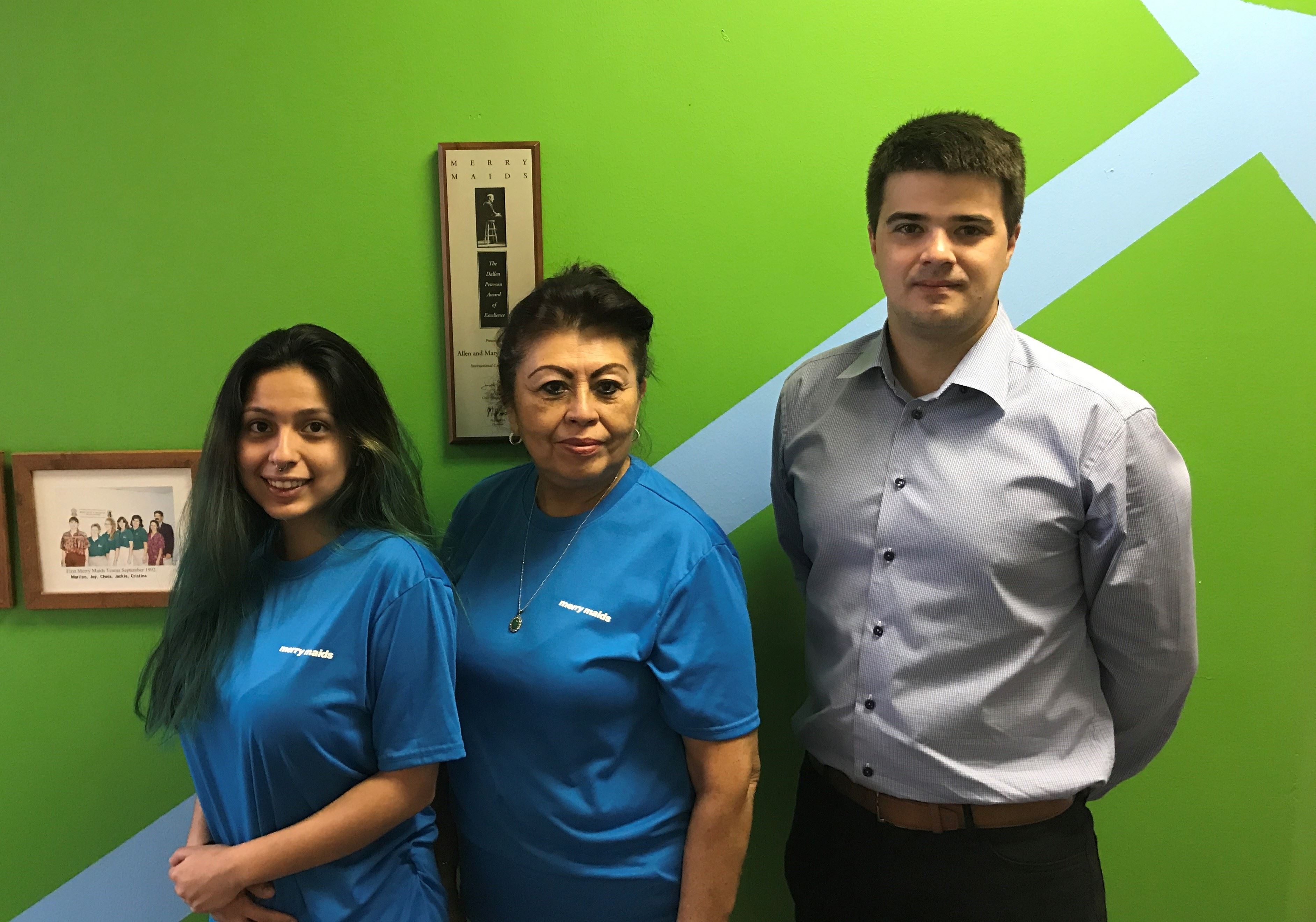 Office Supervisor Cindy Peyrani, Field Supervisor Yadira Ramirez, Operations Manager Conner Brehm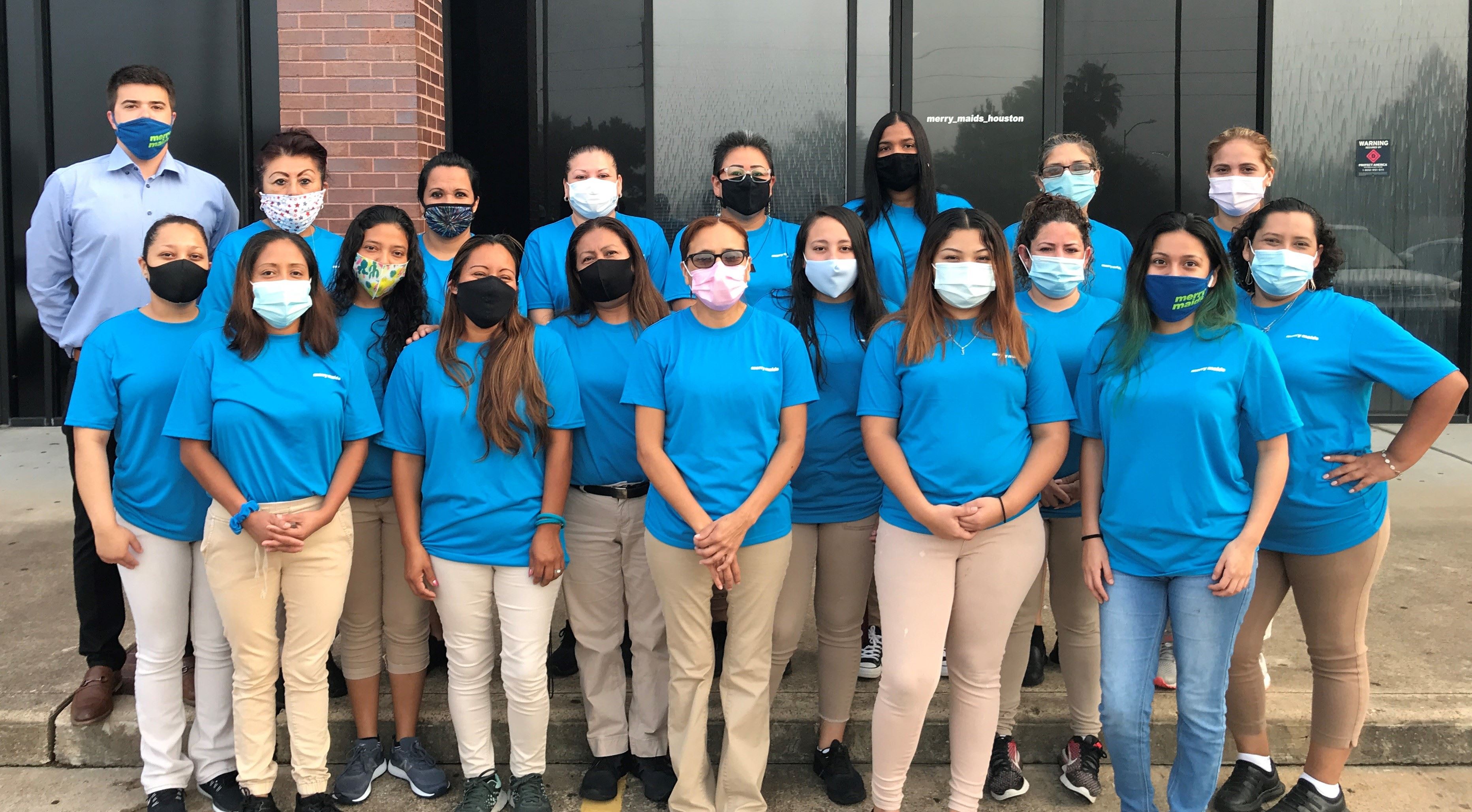 Back Row: Conner, Yadira, Sanjuanita, Nidia, Jessica, Cindy, Araceli, Magda
Middle Row: Maria, Erika, Maria, Gabriella, Gabby, Maria
Front Row: Esmeralda, Anna, Irma, Karen, Cindy
Our Home Cleaning Company History
Merry Maids of Northwest Houston is a proud part of the Merry Maids® brand at large, whose history dates back to 1979 when the original location was first opened in Omaha, Nebraska. Since then, the company has expanded to cities across the U.S., including our very own right here in Houston.
A little bit about our start:
Allen & Mary Lynn Brehm opened their Merry Maids offices in 1992. They have served the Cypress, Tomball, Copperfield, and Northwest Houston areas from the start. After working in traditional engineering fields, Allen realized that a Merry Maids franchise would match perfectly with his desires to operate his own business. With a combination of technical, business, and people skills, it all came together.
Allen works in the business full time as President and General Manager of the company. Mary Lynn brings 30 years of experience in customer service and provides sales and service support for the operation. When not managing the house cleaning business, both Allen and Mary Lynn enjoy being active at St Rose of Lima Catholic Community and tending to the grapes in their vineyard.
As one of the growing 485+ Merry Maids® locations across the country, we are honored to be your local experts in creating clean and healthy homes.
Are you interested in joining our team? Read our FAQ on a Career with Merry Maids.
Cleaning Services Designed to Fit Your Lifestyle & Budget
We know you're busy, and we understand that finding time to accommodate cleaning professionals in your home shouldn't be another thing you have to worry about. That's why we offer affordable and convenient cleaning services that work around your schedule. Whether you're looking for weekly, bi-weekly, or monthly cleanings, our house cleaners are happy to coordinate with you on the best time and day to complete the job – because your cleaning services should fit your time and budget. We wouldn't have it any other way.
Our specialty cleaning services include:
Packing/Unpacking
Wall Washing
Window Washing
Enhanced Hard Surface Disinfection Services
Experience the Merry Maids® Difference
Our Worry-Free Guarantee means we are committed to making sure you are 100% satisfied with your cleaning service. If for some reason you're not, you can call us within 24 hours of your last service and we'll gladly return to make it right at no additional charge! Other perks of working with our local team include:
Licensed, bonded, and insured professionals
Specialized cleaning products for your health and safety
Our house cleaners are ready to build your customized cleaning plan! Call us at
(281) 819-0480

or contact us online for your free estimate.