House Cleaning in Spring Valley
Professional Home Cleaning Services Near You
Base Hours: 2 - 5
Includes: Dusting, Mopping, Vaccuuming, Windows
Merry Maids Recommends: Weekly or Bi-Weekly Cleaning
In Rockland County, there's a great company that will help you with your house cleaning whenever you have neither the time nor the desire to do it yourself.
At Merry Maids of Rockland County, we're completely dedicated to excellence. We'll be respectful of your home as we thoroughly apply the needed effort to make the property shine.
Request your free estimate on reliable house cleaning services in Rockland County by calling (845) 684-4322 or contacting us online today!
Reliable House Cleaners Near You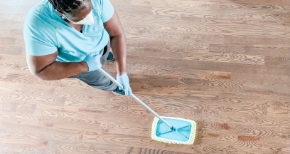 When you work with us, we'll bring our own supplies so you won't have to worry about it, and all of our team members are prescreened, trained, bonded, and insured, so you never have to worry while we're on the job.
Some of our house cleaning services include:
Dusting
Wiping down surfaces
Vacuuming
Mopping
Deep cleans
Window cleaning
Flexible House Cleaning Solutions
We understand that everyone has unique needs and offer customized service plans tailored to meet each of our client's individual needs.
We provide weekly, bi-weekly, and one-time services so that you can maintain a consistently shiny and clean living space.
Our experienced staff works diligently to ensure results that will exceed your expectations. Get in touch with us today and find out how we can help make it easier for you to keep up a spotless home.
Call (845) 684-4322 or request an estimate online to get started with professional house cleaning services in Spring Valley.
Partner With Merry Maids of Rockland County, NY
If you're looking for a house cleaning service in Congers, Spring Valley, Haverstraw and beyond, then Merry Maids of Rockland County is a perfect choice. Your satisfaction is guaranteed, so you can trust that the job will be done right. See what our past clients have to say about our services by reading our Testimonials!
Go ahead and call us today for a free in-home estimate and individualized cleaning plan. Also, check our special offers. We're available Monday - Friday, 9am - 5pm.
Give the gift of Clean. Click here to give a gift for any occasion!