Cleaning Services in Brandon, FL
40 Years Of House Cleaning Expertise
Merry Maids of East Tampa provides a range of cleaning services for just about any occasion or any need. Our team has solved cleaning problems for hundreds of homes and homeowners across the East Tampa region. We are dedicated to providing the highest quality service and strive for complete customer satisfaction with every cleaning job.
Instead of merely checking off a list, our team strives to exceed expectations by doing more than is asked
Friendliness and thoughtfulness are qualities that are team members are known for
We strive for punctuality and completing jobs with timeliness and efficiency
We complete cleaning jobs of any size from small apartments to multi-story homes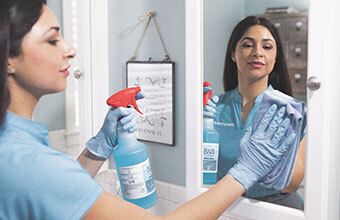 Our goal is to provide flexible and customer-centered house cleaning services to homeowners throughout in Brandon, Florida.
Call us at (813) 559-0209 to learn more!
Cleaning Services for Every Room in the Home
Carefully designed room-by-room processes and checklists customized to suit your preferences are some of our priorities to ensure quality results with every house cleaning. Team members walk through each room and approach their cleaning systematically. They work through each part of the room in order to ensure no corner or crevice is missed. In addition, our team can customize their workload to address any specific items you may want focused on. Let us know what's important to you, and we will adapt as needed.
Get carefully attention for every room in the house:
No matter what your schedule looks like, we can fill in the gaps or completely cover your cleaning responsibilities. We provide one-time, bi-weekly, weekly, or even monthly cleaning services in Brandon. Call and ask about our apartment cleaning services too!
Call us at (813) 559-0209 for house cleaning near you in Brandon, Florida. You can also get an online estimate.