Deep Cleaning Services in Conyers, GA
Discover the Difference of Our Deep Cleaning
Experience a whole new level of cleanliness with our exceptional deep house cleaning services in Conyers, GA. At Merry Maids of Newton & Walton Counties, we understand that a truly spotless home goes beyond the surface.
That's why we go the extra mile to ensure every nook and cranny receives meticulous attention. Our highly trained team focuses on the little details and hard-to-reach areas, banishing dirt, grime, and dust that have been hiding away.
From meticulously scrubbing grout lines to reaching behind furniture, we leave no stone unturned in our quest for perfection. Discover the joy of walking into a home that radiates cleanliness and freshness. Trust our team members for a deep clean that truly transforms your living space!
Call (770) 884-6465 or request an estimate and experience unmatched deep cleaning in Conyers, GA, today!
Detailed Cleaning Tailored to You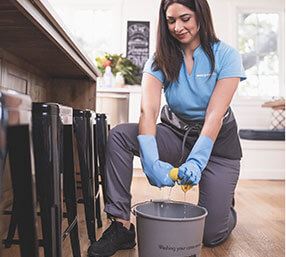 At Merry Maids of Newton & Walton Counties, we understand that each home is unique, with different cleaning requirements and preferences. That's why we offer customizable deep cleaning services that cater to your specific needs, bringing special attention to every area of your home. Our professional cleaners are highly trained to assess your home and create a tailored cleaning plan that addresses every nook and cranny. From the forgotten corners to the high-traffic areas, we leave no space untouched.
We take into account your preferences and focus on the areas that matter most to you, ensuring a personalized and comprehensive cleaning experience. With our attention to detail and commitment to customer satisfaction, you can trust us to provide a deep cleaning service that transforms your home into a pristine sanctuary, tailored just for you.
Benefits of Deep House Cleaning Services
At Merry Maids of Newton & Walton Counties, we take pride in offering top-notch deep cleaning services that go beyond your regular cleaning routine. Our dedicated team of professionals is committed to delivering exceptional results that will leave your home in Conyers, GA, looking and feeling its best.
Some benefits you can expect from our deep cleaning services include:
Enhanced Indoor Air Quality
Time and Effort Saved
Killing viruses and harmful bacteria
Stress-Free Living
Increased Comfort
A Healthier Home
Take the first step towards a cleaner and healthier living space. Let us exceed your expectations and provide you with the satisfaction of a truly deep-cleaned home!
Say goodbye to dirt and grime today! Call (770) 884-6465 or request an estimate for our deep cleaning near you!
Base Hours: 2 - 5
Includes: Dusting, Mopping, Vacuuming, Windows
Merry Maids Recommends: Weekly or Bi-Weekly Cleaning