Enhanced Disinfection Services in Mesquite
Keep Your East Dallas Home Clean and Healthy during COVID
At Merry Maids of East Dallas, we believe your home is a sanctuary and treat it as such. With our disinfecting services, we are sure to leave your home clear of unhealthy bacteria that can cause harm to you or your family.
With over 40 years of cleaning and time-tested experience, our cleaning professionals use advanced technology to ensure no surface goes untouched in your house or apartment. When you hire our team to perform disinfecting services in your home, you can rest assured knowing you are reviewing superior service at an affordable price!
Get started with your enhanced disinfection services in Mesquite by contacting us online or calling (972) 218-0082 today!
Proven Techniques for Home Disinfection
Not only do we believe that your home should be clean, we also understand how important it is for it to be a healthy place to hang out and make memories with your loved ones. During every home cleaning, we use proven disinfecting techniques that destroy bacteria on the most frequently touched hard surfaces in your home. These surfaces can be a petri dish of different bacteria that can infect different areas and surfaces of your Mesquite home if not thoroughly and regularly cleaned.
*Disinfection cleaning is most effective on hard surfaces
Some of the high-touch surfaces we disinfect during our cleaning:
Doorknobs
Light Switches
Hand Railings
Countertops
Appliance Handles & Knobs
Toilet Seats & Handles
Tabletops
When these highly-used, hard surfaces are disinfected during our cleaning services, bacteria and pathogens are destroyed. This helps ensure your family stays safe while freely touching surfaces throughout the day!
Receive a free cleaning estimate on Mesquite disinfection services today! Give us a call at (972) 218-0082 or reach out to us online!
See what special offers area available.
Extra Care for Your Home with Sanitizing Services
In specific situations where enhanced disinfecting services are needed, we ensure that we only use the best brands and tools available to our team. Our time-proven methods and advanced technologies ensure that your home will be cleaned from top to bottom. We will implement our enhanced disinfecting services during our cleaning to specifically ensure that your Mesquite home will continually remain a safe and healthy spot for you and your loved ones to relax.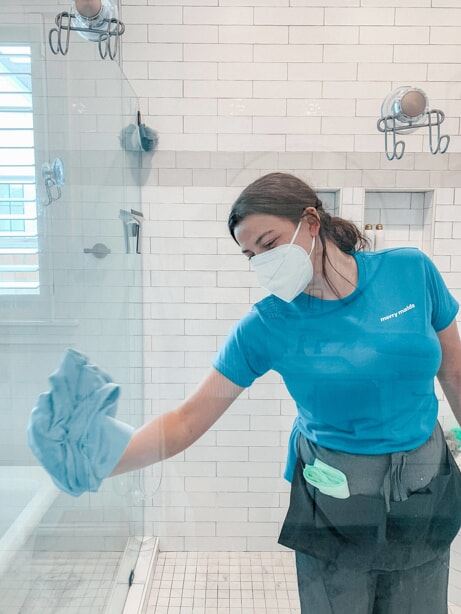 Benefits of Enhanced Disinfection Services
Not only do our services offer an extra shield against harmful bacteria, our enhanced disinfection services host other benefits as well. These include:
Saving Time – Not only do all of our services save you the time you used to spend tracking down every spot in the house, but we also save time by completing our services quickly and efficiently. You will finally have your weekends back!
Spotless Home – When performing all our services, we pride ourselves on leaving spaces clean and spotless. We are excited for you to enjoy rest and relaxation in your clean and fresh home!
Convenience – Not only is having your home cleaned and disinfected very convenient, but we also offer flexible scheduling options and the latest tech to make it even easier.
Regardless of our services, our cleaning professionals will be sure to leave your home looking and smelling clean, while being a healthy spot for you and your family to spend time together doing activities you love. These enhanced disinfection services will leave your home's surfaces clear of bacteria and other potentially harmful pathogens.
Disinfection Services FAQs
Do your team members wear protective equipment?
Yes! Our professionals wear personal protective equipment (PPE) including masks and gloves.
Are team members screened for sickness?
Yes. Our team members record daily temperatures using digital thermometers.
What do you focus on in your enhanced disinfection routine?
Our disinfection services in Mesquite focus on high-touch surfaces. These include: chair handles, counter tops, shower doors and handles, toilets, door handles, appliance handles, light switches, sinks, microwaves, tabletops and trash receptacles.
What does the CDC recommend for household cleaning?
The CDC recommends cleaning frequently touched surfaces. They also recommend using household disinfectants that are EPA-registered.
Do you use EPA-registered disinfectants?
We utilize EPA-approved solutions for treating pathogens in the home.
Ready for enhanced disinfection services in Mesquite? Call (972) 218-0082 or contact us online to request your free estimate today!
Base Hours: 2 - 5
Includes: Dusting, Mopping, Vaccuuming, Windows
Merry Maids Recommends: Weekly or Bi-Weekly Cleaning