House Cleaning in Houston
Benefits of Our House Cleaning Services
Base Hours: 2 - 5
Includes: Dusting, Mopping, Vaccuuming, Windows
Merry Maids Recommends: Bi-weekly cleaning
Many people who hire Merry Maids of Houston for a one-time service are so impressed with the results that they sign up for regular cleaning afterward. The benefits of routine professional house cleaning are endless.
Kitchen Cleaning
Our professional house cleaning services include deep kitchen cleaning, which means that all surfaces and appliances in the kitchen will be thoroughly cleaned, including cabinets, sinks and countertops. We use only the highest quality cleaning products to ensure a sparkling finish every time. Our team of experienced cleaners are highly trained and dedicated to providing you with an outstanding service that leaves your home looking spotless.
Bathroom Cleaning
Our professional house cleaners use deep cleaning solutions to ensure your bathrooms look spotless, including scrubbing tile grout, polishing fixtures and removing soap scum from showers. We also provide a range of additional services such as window washing and floor mopping for an even deeper clean. With our help, you can enjoy sparkling bathrooms without lifting a finger!
Benefits of Routine House Cleaning:
Immediate relaxation - If you're used to "earning" your relaxation by cleaning first, it will be a real treat for you to not have to worry about that again.

Time given back to you - Every minute you don't spend cleaning is another minute you can spend relaxing or getting more important work done.

More thorough cleaning - In addition to our team having ample time for a thorough cleaning, we also have access to professional tools to get the job done more effectively.

Reduced exposure to allergens and irritants - You won't have to come into close contact with things like mold, mildew, dust or dust mites or with cleaning products that you might not have protective equipment for.
Merry Maids of Houston provides dependable house cleaning services performed by a trustworthy team of professionals. We take a thorough approach to our cleaning techniques. Using only environmentally friendly products, we can tackle apartment cleaning and move-in cleanings. Our Houston home cleaning service team members will take the time to get your home in top shape.
We provide top-notch home cleaning services to residents of Houston and beyond. To request an estimate, call us at (713) 364-0094 or contact us online today!
Trusted Local Home Cleaning Company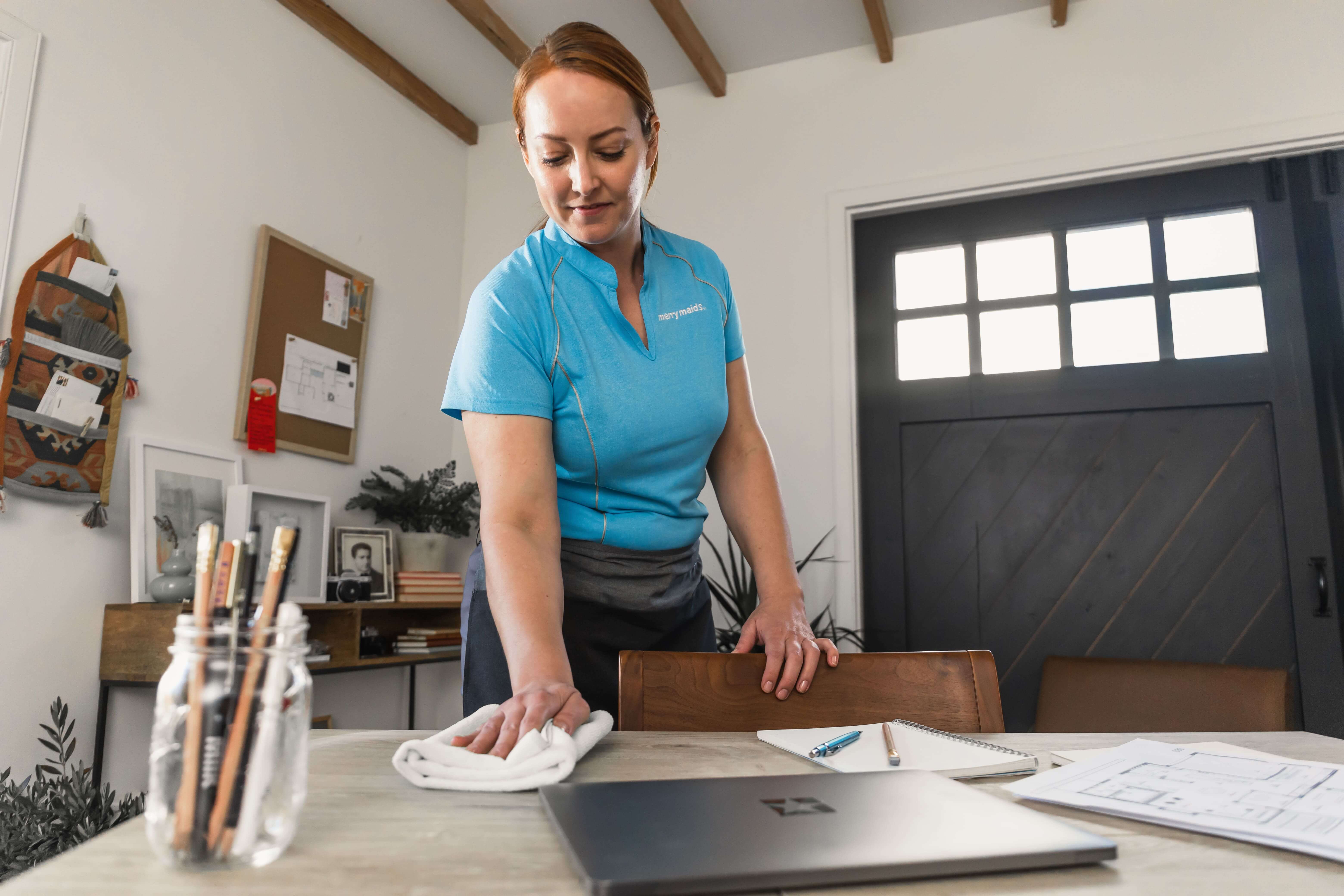 We employ highly trained individuals to serve our clients, and our team does such a great job that we have a satisfaction guarantee. Whether you're considering a one-time appointment or weekly, biweekly, or monthly service, we can accommodate your needs.
Our clients can expect:
Expertly trained Houston home cleaners
Advanced home cleaning you can see and feel
When you need professional house cleaning services in Houston, the team at Merry Maids is the trusted choice. Call us today to schedule a free estimate!
come home to more Request Your Free Cleaning Estimate Now!
Learn More: