Housekeeping Services in Rochester, NY
Professional Housekeepers Near You

At Merry Maids of Rochester, NY, our team of cleaning professionals are trained to provide superior attention to detail and thoroughness on every job. Our Rochester housekeepers are among the best to be found in the region for their high standards, friendliness, and genuine interest in helping people live more comfortably.
If you have come home and felt overwhelmed by the mess one too many times, it is probably time to leave your home's cleaning needs with us. Our goal is always to bring out the personality and warmth of your home by making it fresher, brighter, and neater than ever.
Experience the advantages of professional housekeeping. Contact us online or call (585) 205-7982 today!
Why People Love to Hire our Housekeepers
There are a variety of reasons why our team of professionals are well liked by locals in the Rochester region. Along with impeccable courtesy, flexibility, and consistency, here are a few more reasons to consider our team for your home.
Merry Maids has been an Industry Leader for 40 Years
Our team provides flexible services including:

a green line of cleaning products
customizable cleaning checklists

We are highly rated (4.5 Stars) on Google
Customers enjoy working with our cleaning team
We provide a 24-Hour Worry Free Guarantee
Our team works fast and focuses on efficiency
Team members occasionally leave a personalized note to say hello
Duties Our Team Can Manage For You
Excellent housekeeping is all about making life easier for a homeowner. When chores hang dangling over your head all day, it's easy to get too stressed out to relax. If you want to simply enjoy more time at home with family (or perhaps alone?), our housekeepers in Rochester are ready to make that happen.
Our team of cleaners can help with the following: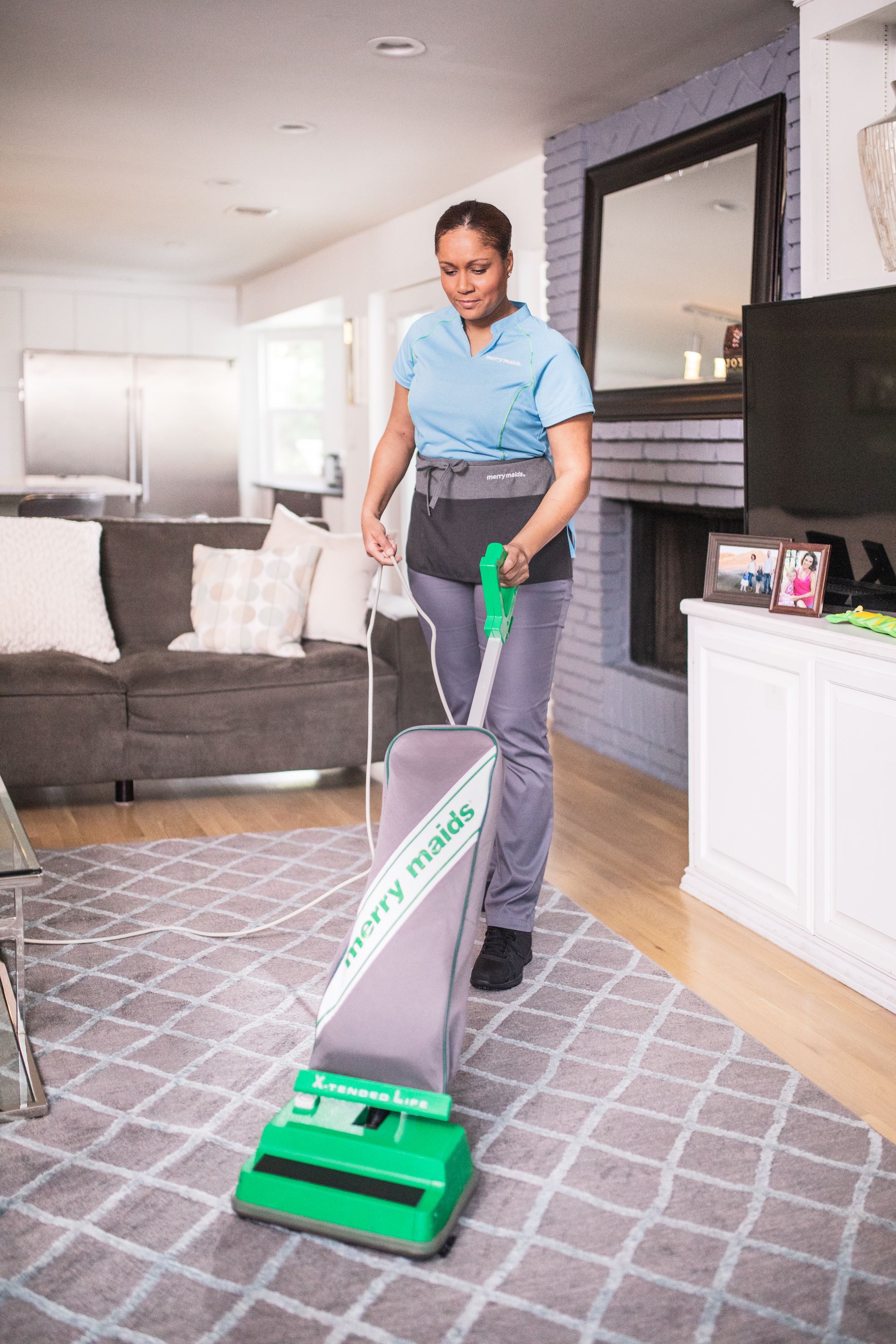 Emptying waste bins and trash
Washing dirt from walls and surfaces
Decluttering rooms
Organizing closets and cabinets
Dusting surfaces, mantels, shelves, etc.
Sanitizing hard surfaces
Vacuuming floors
Scrubbing bathroom fixtures
Leaving each room with a fresher scent
Tracking cleaning supplies
Cleaning windows
And much more...
Decluttering Every Room
We can provide decluttering services for every room in your home including: kitchen, living room, bedrooms, laundry room, cabinets, dining room, and more. And apart from Rochester, we serve East Rochester, Henrietta, Fairport, Churchville, and beyond.
Get started with reliable & convenient housekeeping services near you by calling (585) 205-7982 or contacting us online today!
Base Hours: 2 - 5
Includes: Dusting, Mopping, Vacuuming, Windows
Merry Maids Recommends: Weekly or Bi-Weekly Cleaning