Rochester Maid Service
Base Hours: 2 - 5
Includes: Dusting, Mopping, Vacuuming, Windows
Merry Maids Recommends: Weekly or Bi-Weekly Cleaning
Cleaning Company in Rochester, NY: Local Maids Near You
Hiring a maid service in Rochester, NY means that you'll never have to spend your free time performing menial tasks around your home. Whether you're finishing up a renovation or in need of recurring cleaning services near you to keep your living space looking great, Merry Maids of Rochester is only a phone call away.
Gain more free time and maintain a clean and healthy environment with professional maid services in Rochester. Call (585) 205-7982 or submit your info online to get started today!
Create a Happy Home
You're always on the go, but your home shouldn't be. That's why we're here to make sure that your house is always clean and organized. Merry Maids takes care of all your cleaning needs, so you can spend more time doing what you love. We're a professional maid service that ensures that every detail is taken care of.
Customizable Cleaning Services
We offer a variety of services to suit any need or budget. From weekly maid services to deep cleaning sessions, we have something for everyone!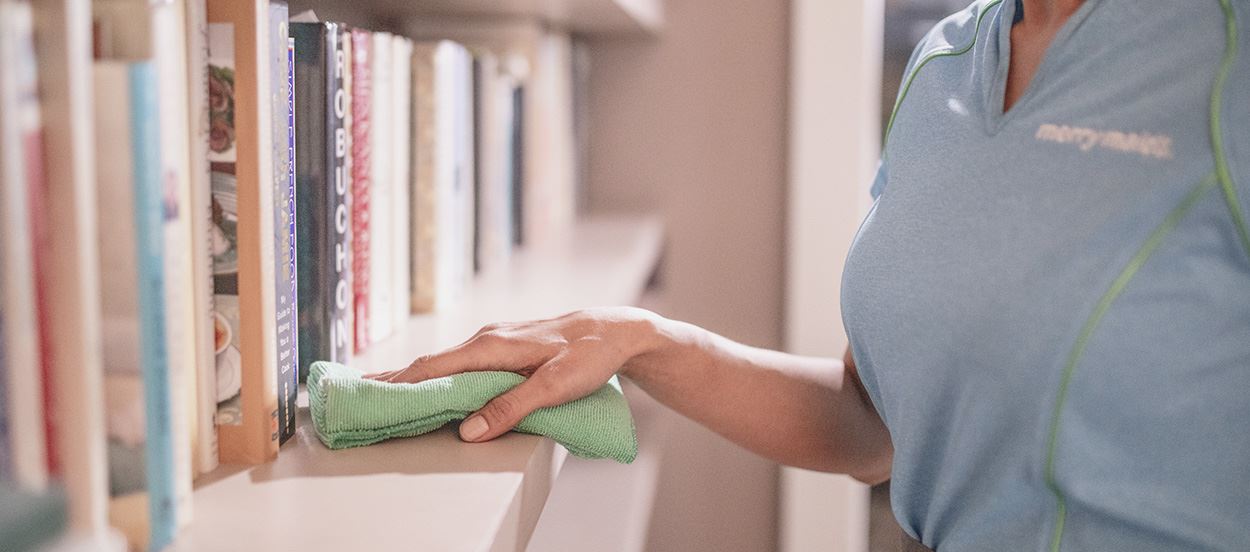 What Does A Deep Clean Include?
A deep clean typically includes more thorough and detailed cleaning than a regular cleaning. The specific tasks involved in a deep clean can vary depending on the cleaning service provider and the needs of the home. However, here are some examples of what a deep clean may include:
Cleaning and disinfecting all surfaces, including countertops, sinks, and toilets.
Scrubbing and sanitizing showers, tubs, and bathroom tiles.
Cleaning the inside and outside of all kitchen appliances, such as ovens, microwaves, and refrigerators.
Wiping down all kitchen cabinets and drawers.
Cleaning and dusting all vents, fans, light fixtures, and baseboards.
Deep cleaning carpets, upholstery, and floors.
Removing cobwebs and cleaning behind furniture and appliances.
Cleaning windows, blinds, and curtains.
Cleaning and organizing inside closets and drawers.
Removing trash and debris from the home.
The goal of a deep clean is to provide a more thorough and detailed cleaning than a regular cleaning, with a focus on areas that are often overlooked or neglected during routine cleaning. It can be a good option for preparing a home for a special event or for those who want to maintain a high level of cleanliness in their
Leave it to the Professionals
Merry Maids has been in business since 2008 and has serviced hundreds of happy clients over the years. We know what we're doing so you don't have to worry about a thing!
Satisfaction Guaranteed
When you deal with our friendly team of maids, you'll soon have a completely clean home. Just the way you want it. We've been recognized for our commitment to the community, and you may enjoy trusting your household chores to a brand that has earned a Women's Choice Award. Our business is licensed, bonded, and insured, and we're fully accredited by the Better Business Bureau. We'll take respectful care of your home, and we'll use environmentally friendly products that are safe for pets and children.
Merry Maids of Rochester would be happy to provide you with our maid service near you. Call our cleaning team when you're ready to experience the benefits that a dependable service can deliver.
Learn more about our proven house cleaning & maid services in Rochester by requesting a free estimate online or calling (585) 205-7982 today!