Rochester House Cleaning Services
Base Hours: 2 - 5
Includes: Dusting, Mopping, Vaccuuming, Windows
Merry Maids Recommends: Weekly or Bi-Weekly Cleaning
Professional House Cleaners Near You
Keeping a house clean can be a never-ending battle. As soon as one room is clean, another seems to get dirty. And with busy schedules, it can be difficult to find the time to keep on top of everything.
That's where we come in! Our house cleaning experts can take care of all the cleaning for you, so you don't have to worry about it.
Trusting your house cleaning tasks in Rochester, NY to the caring cleaning professionals at Merry Maids of Rochester is the proactive way to make sure you have a completely clean home.
Just the way you want it. We adhere to the highest standards possible, and our home cleaning team members are licensed, bonded, and insured for the best possible house cleaning services near you.
Experience the convenience of professional house cleaning services in Rochester, NY. Call (585) 205-7982 or submit your info online to request your free estimate today!
House Cleaning Services in Rochester, NY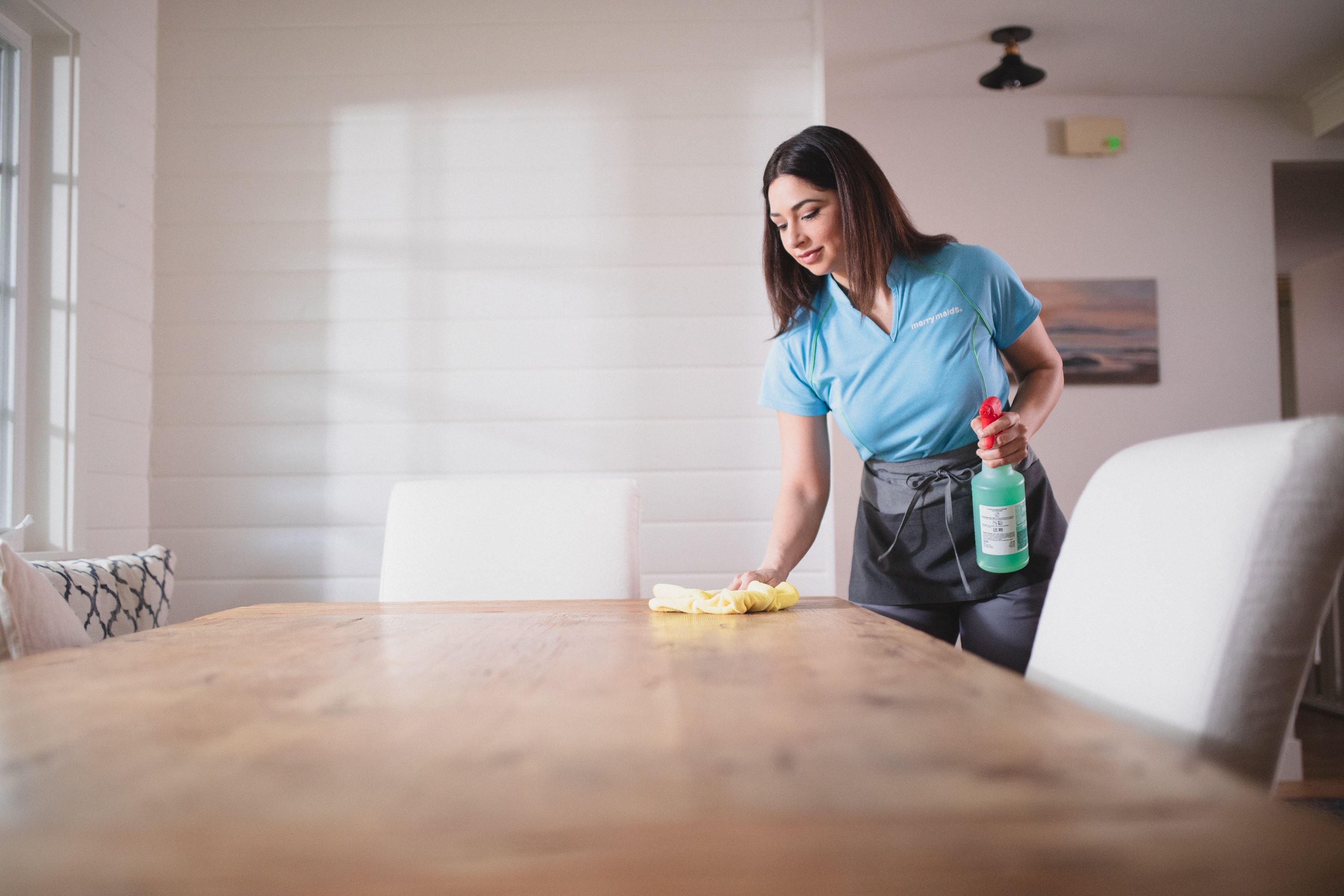 We know clean, and we train and screen our employees so you don't have to worry about having us in your home. We'd be happy to create a cost-effective package that meets your needs.
Our housekeeping service can come to your residence on a weekly, biweekly, or monthly basis to help with the chores that you don't have time for. After-party and post-construction cleaning also fall under our expertise.
Merry Maids of Rochester guarantees that you'll be satisfied with our maid services. To request your free estimate for home cleaning services in Rochester, NY, give us a call and discover how we can personalize a house cleaning package in accordance with your needs.
What is Included in a Deep Cleaning of a House?
A professional deep cleaning of a house generally includes cleaning all surfaces, inside cabinets and drawers, under furniture, and in all corners and tight spaces. In the kitchen, this may include scrubbing the stovetop and oven, sink and countertops, backsplash and floors.
The bathroom will be thoroughly cleaned as well, with particular attention paid to the toilet, tub/shower, sink and vanity. All carpets will be vacuumed and possibly shampooed, and hardwood floors will be mopped.
Deep cleaning may also include dusting blinds/shutters, washing windows/screens, and cleaning ceiling fans and light fixtures. Overall, a professional deep cleaning leaves your house sparkling clean from top to bottom.
Call (585) 205-7982 or contact us online to request your free estimate on top-quality house cleaning services in Rochester today!
Trusted House Cleaners Rochester NY
At Merry Maids of Rochester, we take pride in providing top quality house cleaning services to the community of Rochester, NY. Our experts are highly specialized in all home cleaning solutions and provide you with thorough cleaning to make sure your house is looking spotless.
Our house cleaning experts specialize in:
Bathroom cleaning
Kitchen cleaning
Bedroom cleaning
Laundry Room cleaning
Dining Room cleaning
Living Room Cleaning
and so much more! We understand how important a clean environment is for your home which is why our team of experts work with you to come up with tailored cleaning solutions specific to your home. So if you're in need of a house cleaning service Rochester NY, contact our team to see how we can help you!
Give the gift of Clean. Click here to give a gift for any occasion!