Specialty Cleaning Services in Spring, Texas
Affordable Service for Custom Cleaning Projects
When you need more than a routine cleaning but less than a deep clean of the whole house, our specialty cleaning services are the perfect solution. At Merry Maids of Spring, we offer a variety of services that are specific to the type of cleaning you currently need.
If you have anything that needs to be professionally cleaned quickly, call (281) 407-6655 for help!
A Range of Specialized Cleaning Services
Our services are not limited to just routine cleaning jobs and deep cleaning projects—we also offer cleaning and housekeeping services designed to fit your unique cleaning needs, including:
Kitchen Appliance Cleaning
Refrigerators and ovens require extensive cleaning to ensure the appliances work to their maximum efficiency. Grease and spills can ruin them over time, so it's important to perform deep cleaning to eliminate smells and stains, and to extend their life-expectancy.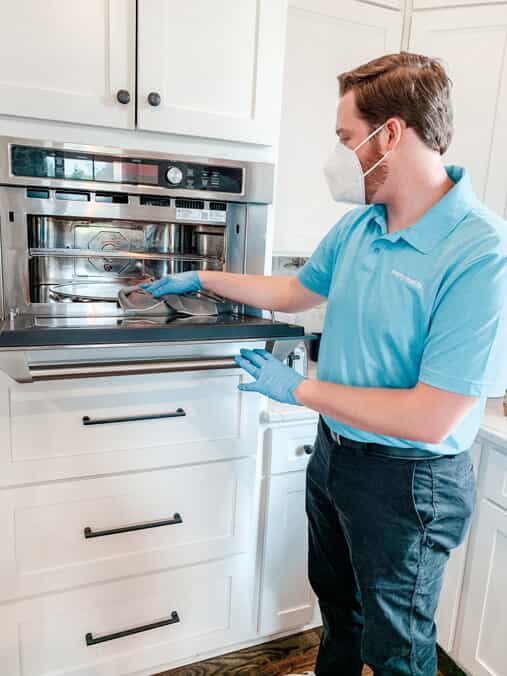 Packing/Unpacking
Moving is a long process, so hiring help is beneficial. We'll ensure your items are well-organized and secure, while leaving a clean space behind us.
Laundry Service
Our Spring, TX laundry cleaners will load your washer and dryer while cleaning your home! Whether clothes or bed sheets, we can take care of your laundry needs so you don't have to.
We know keeping up with laundry can be a lot more trouble than meets the eye, so we're glad to take these tasks off of your hands. There will be no more forgotten loads in the wash or piled up laundry. Plus we know exactly what settings to use to make sure your laundry is properly cared for.
Silverware Cleaning & Polishing
When it comes to a good clean, details matter, and silverware is no exception! We can clean and polish your utensils until they look as good as their first purchase, gleaming like new.
Closet Organization
We can help organize your closet; decluttering is an extremely beneficial activity that can help relieve stress and promote organization throughout your home.
Interior Cabinet Cleaning
Like the closet, a clean and organized cabinet is beneficial for both physical and mental health. We'll wash what's inside the cabinets, wipe down the cabinets themselves, and create–with your input–a system for organizing the contents.
Wall Washing
Walls are often overlooked, but they still bare dust and the occasional dirt marks. Let us take care of the cleaning so your walls and paint remain clean and pristine.
Dishwashing
If you have leftover dirty dishes, we can rinse them off and load them in the dishwasher for you. This doesn't disrupt our cleaning routine, but also gives us the chance to go that extra mile for you.
Concierge Service
What sets us apart from other cleaning services is our dedication to making your life easier—this even includes running minor errands for you. Plan with us and we can take care of any miscellaneous errands for you!
Take a moment to view current specials.
What Else Do We Offer?
Our home cleaning services don't end with the list above. For example, we also offer window washing, hard surface disinfection, and other services to meet your unique needs. Meet with us about anything you need, and we can add it to our cleaning routine.
If you're ready to try out specialty cleaning, call (281) 407-6655 or click here to request an estimate!
Base Hours: 2 - 5
Includes: Dusting, Mopping, Vacuuming, Windows
Merry Maids Recommends: Weekly or Bi-Weekly Cleaning