Deep Cleaning Service in Baton Rouge
High-Quality, Whole House Cleaning
At Merry Maids of Baton Rouge, we offer deep cleaning services for all residences. Homes, apartments, and condos all need regular cleaning. This addresses the dirt and dust that accumulate from people living in these spaces. If you're moving into a home, we'll make the rooms spotless for your first day. Likewise, if you're moving out, we'll make everything look good as new for the incoming residents. Our Baton Rouge deep cleaning services are a good option for longtime homeowners, too. We can address the spaces that you can't reach during your normal cleanings.
Housekeeper Deep Cleaning Checklist
We design our deep clean house service around your priorities. We can focus on anything that you think is important. If you want to create a checklist for your housekeeper, we list some items you may want to include below.
Kitchen Deep Cleaning
Mopping Floors
Cleaning & Freshening Sinks
Cleaning Kitchen Appliances
Cleaning Out the Refrigerator / Freezer
Organizing the Refrigerator / Freezer
Washing Dishes
Decluttering & Organizing Countertops
Wiping Down Cabinets
Bathroom Deep Cleaning
Cleaning Shower & Bathtub
Cleaning Toilets
Scrubbing Grout
Descaling Faucets
Cleaning Glass & Mirrors
Deep Cleaning in Living Areas
Dusting Hard-To-Reach Areas
Vacuuming & Mopping Floors
Vacuuming Couches and Cushions
Vacuuming Under Furniture
Cleaning & Dusting Ceiling Fans
Cleaning Light Fixtures & Lamps
Dusting Window Sills
Dusting Electronics
Emptying Trash Bins
Dusting and/or Scrubbing Baseboards
Spot Cleaning Carpet & Upholstery
Dusting Blinds
Washing Dirt Off Walls & Doors
Enhanced Disinfection

*Disinfection cleaning is only effective on hard surfaces
When cleaning a bathroom, people tend to clean sinks, toilets, showers and floors. When deep cleaning the same space, Merry Maids of Baton Rouge will do all that AND clean tile grout and door frames. We'll also take out the garbage and sanitize the trash bins. Stains and residue are often left in trash cans. That's why we include scrubbing the bins in the deep cleaning of every room.
Do you have any other special requests related to house deep cleaning services? Feel free to discuss them with us. We can likely add them to the personalized deep clean we do of your space. We want to ensure we meet your needs, because making sure the details are perfect is one of the keys to a happy life.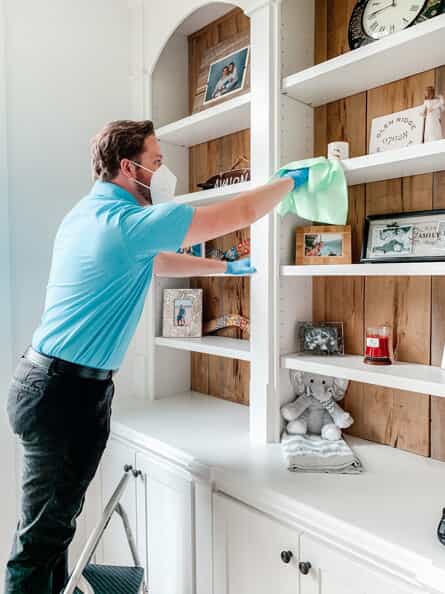 A Detailed Clean Using the Right Products
When deep cleaning a space, it's important to use the right products. Unfortunately, many traditional cleaning products, like Bleach, are not particularly safe for excess home use. Merry Maids of Baton Rouge always carries organic cleaning products that meet required guidelines for safety and sustainability. Our green cleaning practices allow us to uphold our standards of thorough, deep cleaning while remaining eco-efficient.
For information about detail cleaning, call our team at (225) 414-6689 or read up on reviews from recent clients.
Deep Cleaning the Unexpected Places
Many think the dirtiest part of a house is the toilet. But there are other overlooked areas that accumulate dirt and grime as fast or faster. For example, a doorknob gets physical contact many times per day and is rarely sanitized. Our deep cleaning process involves addressing those overlooked parts of the home.
Let us unload some of the stress from your routine with deep house cleaning services in Baton Rouge. Detailed cleaning also helps with your regular cleaning routine, as the small corners and thin gaps are already dust-free.
Do you make deep cleaning under appliances or around ceiling fan blades a priority? Many people do not. But these are common places for dust to collect. Excess dust reduces air quality and irritates allergies. A clean room leads to a healthier atmosphere. Detailed cleaning provides a wealth of benefits, from feeling healthier to sleeping better.
Are you ready to try out our deep cleaning services? Give us a call at (225) 414-6689 or request an estimate for Merry Maids of Baton Rouge now.
Base Hours: 2 - 5
Includes: Dusting, Mopping, Vacuuming, Windows
Merry Maids Recommends: Weekly or Bi-Weekly Cleaning