Green Cleaning Services in Baton Rouge
Eco-Friendly Cleaning Products for Healthy Homes
At Merry Maids of Baton Rouge, we understand that your home is a sanctuary. You should feel confident that the products that are used in your home are safe without sacrificing quality.
This is why our team of Baton Rouge green cleaners have a special line of products designed to meet stringent guidelines set by the EPA.
Schedule green home cleaning services in Baton Rouge at (225) 414-6689 today. (You can also read reviews.)
Our Green Cleaning Products
Helping you maintain a healthy home is always our focus. One way we do this is by offering a set of products that are SaferChoice® approved. These products meet specialized criteria set down by the EPA.
These products can be considered safe and sustainable on the basis of several criteria: performance, packaging, pH, ingredients, impurities, transparency, and more.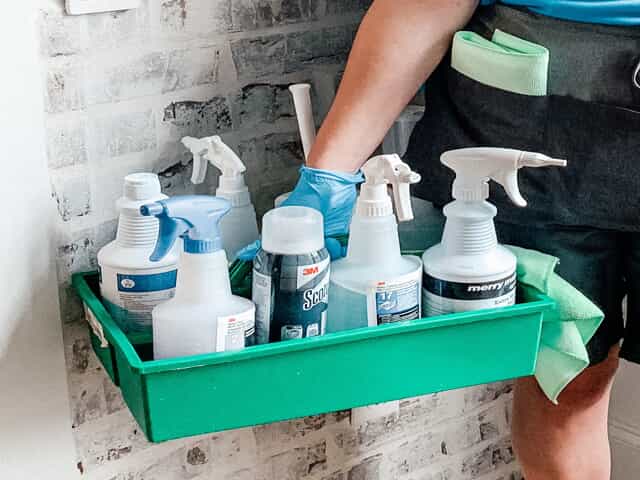 Find out what special offers are currently available.
Volatile Organic Compounds (VOCs)
One important facet of our SaferChoice® products is that they are lower in VOCs (volatile organic compounds). VOCs can cause irritation for people with allergies, asthma and sensitivities. By reducing VOCs in our products, we are ensuring that the air in your home is easier to breath for everyone.
More Benefits
Our products are also a good choice because they are pet-friendly, they help decrease carbon emissions and they contribute less to landfills.
Going Green with Cleaning
Merry Maids of Baton Rouge is here to provide options that are best for your home and family. If your home has not had professional deep cleaning done before, it may be helpful to complete an initial cleaning using certain products based on their effectiveness in eliminating bacteria and pathogens.
After the initial cleaning, our green cleaning company in Baton Rouge can maintain high standards by relying on our green cleaning products.
Request an estimate or get in touch by calling (225) 414-6689 today.
Base Hours: 2 - 5
Includes: Dusting, Mopping, Vaccuuming, Windows
Merry Maids Recommends: Monthly cleaning