Housekeeping Services in Baton Rouge
Customer-Focused Housekeeping Contractors Near You
Professional housekeeping is the best way to guarantee your home stays clean all week long. If you feel like your home is not the safe, healthy place you want it to be, a housekeeper is the right investment. Your home should be a sanctuary above all else. You should feel lighthearted and relaxed whenever you walk through your door. What can surely disrupt those positive vibes is a cluttered and unkempt space. Fortunately, our team at Merry Maids of Baton Rouge provides housekeeping cleaning services that help you fall back in love with your home.
From scrubbing and polishing to vacuuming and dusting, our comprehensive services take care of all those hard-to-reach places and impossible-to-clean areas. We can handle all your regular cleaning tasks so you can get back to what's most important. Because we understand that your overall health and safety starts at home, we offer reliable, stress-free, and guaranteed professional housekeeping for residents in Baton Rouge and the surrounding areas.
Other cleaning companies claim to provide all-inclusive services that, ultimately, leave you dissatisfied. Our thoroughly trained specialists offer a cleaning and customer experience you can see and feel. Backed by a national brand name with over 40 years of experience, we are committed to providing local hospitality and cleaning services that put The Extra In Your Ordinary®.
Call us at (225) 414-6689 to experience our exceptional housekeeping services in Baton Rouge.
Housekeeping Contractors Committed to Everyone's Health & Safety
Merry Maids has always been committed to the health and safety of our customers and team members. With the current global pandemic, we are taking the necessary precautions to ensure our team is protecting both themselves and the integrity of your space. Our team members wear personal protective equipment (PPE), such as disposable gloves, masks, and shoe covers (where available), and maintain an appropriate distance when inside your home. Our cleaning techniques have always given—and continue to give—extra attention to high-touch surfaces and high-traffic areas for a thorough clean.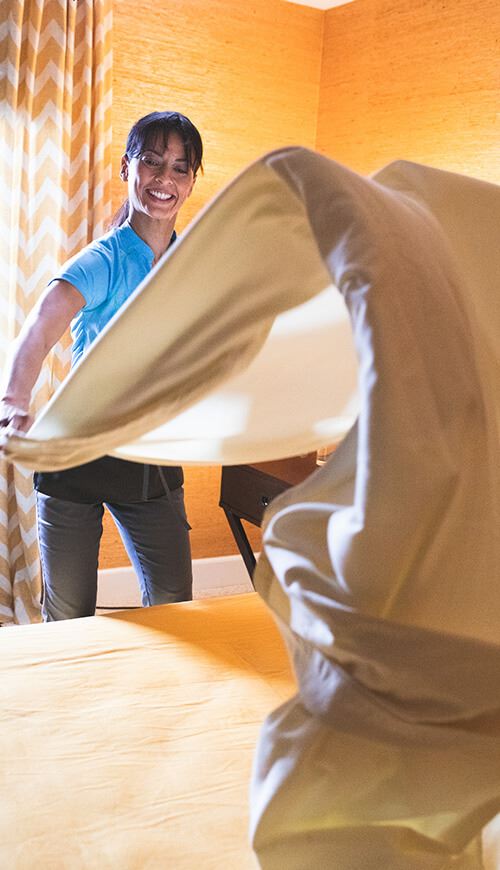 Housekeeping that Gives You the Gift of Time
Are you ready to finally focus on your hobbies and the things you love? Merry Maids of Baton Rouge has proven cleaning techniques and methods that help you get back to enjoying your home and family. You have access to flexible appointment options and meticulous cleaning methods that give your home a luster you haven't seen in a while. Our customizable and convenient services can fit your specific needs, lifestyle, and schedule.
4 Areas in Your Home to Declutter Today
Let's face it, we all have parts of the house that need a little extra attention. From your garage to your bathroom cabinets, several highly frequented locations could use some decluttering. Fortunately, our professionals can help!
1. Declutter your entryway
The entrance to your home sees a lot of foot traffic and can get disorganized fast. From shoes and book bags to coats and purses, your entryway is the proverbial dumping ground in your home. When considering how to keep this area clean, you'll want to think about the best ways to create a tidy place to hold all of the items that pile up. Considering investing in:
wall hooks
a storage bench
a shoe rack
These can help create organization and bring added visual appeal to the space.
2. Tidy up the kitchen counter
This space probably has the most-touched surfaces out of any area in your home. Therefore, it's vital to keep it sanitary and decluttered. If you have kids, it can seem virtually impossible to keep things clean and organized in your kitchen. The secret is staying committed to tidying up and getting everyone on board.
Ensure any mail that finds its home on countertops isn't there permanently.
Designate a space for paper piles such as a basket or a wall-mounted sorter so you can decide what to keep and what to discard.
Keeping the sink cleared of dirty dishes aids in the overall decluttering and function of your kitchen.
Ensure the entire family knows that dishes should be washed after use and not left in the sink or on counters.
3. Organize your desk
Piles of papers always seem to end up on your desk if they're not littering your kitchen counters. Most of the time, your most intimate spaces are concealed from public view. However, if someone were to take a peek at your home office, they might get the impression that you're not very organized. Take control of this space by sorting bills and essential paperwork into stackable filing trays and labeling each tray for easy access.
When organizing and decluttering your desk, piles of papers aren't the only things you have to combat.
Make sure to use containers to house office supplies such as pens, paperclips, sticky notes, and rubber bands.
The key to reducing clutter is to contain it in the proper places. A desk organizer with individual compartments is a great way to keep drawers neat and tidy.
4. Pare down closets
"Out of sight, out of mind" is the mindset most assuredly responsible for cluttered closets. After all, if you can't see it, does it really exist? It's easy to discard items inside the closet, close the door, and forget about them. However, that approach only works until you have to retrieve something and are reminded of how unorganized it truly is.
Paring down clothing and shoes is a surefire way to keep your closet—and home—organized and clean. Even the messiest closets can be revitalized with tried and true organizational tricks. Hanging shelves and shoe racks can open up much-needed walking space, while over-the-door hooks can keep scarves, ties, and jewelry organized. Embracing organizational techniques means you're committed to creating a more functional and decluttered space for your entire family.
If you need help with decluttering or organizing, call us today at (225) 414-6689 or request a free estimate online for our housekeeping cleaning services in Baton Rouge.
Professional Cleaning Services & Experts You Can Trust
The cleaning experts at Merry Maids of Baton Rouge deliver services that go above basic cleaning practices. We provide comprehensive services to reenergize your home and allow you to get back to enjoying all the most important things in your life.
Regardless of how often you need us—weekly, monthly, annually, or just once—we offer professional cleaning services that will exceed your expectations.
To ensure we're hiring the best of the best, all of our cleaning professionals go through a rigorous training program before they ever step foot in your home. They learn about our processes, policies, and how to uphold our customer-focused reputation. Once they are thoroughly trained, our uniformed team members will show up on time to your property and tackle your most tedious cleaning tasks, whether they are routine or items that require specific focus and a deeper cleaning.
Our staff isn't the only reason why residents in Baton Rouge and surrounding communities rely on us.
We're one of the top names in cleaning and housekeeping services because we:
Provide every client with an in-home cleaning analysis
Offer individualized housekeeping services
Offer a text-messaging service to stay in constant communication
Adhere to COVD-19 procedures for the health and safety of everyone
Use advanced technology and cleaning methods
Offer a free cleaning estimate
Our service offerings have not only made us an industry leader, but have also gotten us award recognition. As the winner of multiple Women's Choice Awards for America's Most Recommended Cleaning Service and many other accolades, we can safely say that our reputation speaks for itself. We are here to accommodate your diverse demands and deliver professional housekeeping services that free up your life.
For services you can always trust, call Merry Maids of Baton Rouge at (225) 414-6689.
Base Hours: 2 - 5
Includes: Dusting, Mopping, Vacuuming, Windows
Merry Maids Recommends: Weekly or Bi-Weekly Cleaning