Enhanced Disinfection Services in San Antonio
Your Well-Being Starts at Home
When it comes to staying safe and healthy, your home environment plays a vital role. Merry Maids of San Antonio wants to help you maintain a spotless home, eliminating dirt, germs, and bacteria with our advanced cleaning techniques and processes. Our cleaning professionals have the training and experience to know where germs like to hide, so you can rest assured we'll leave no corner uncleaned.
Keeping High-Touch Surfaces Clean
If you already receive our house cleaning services on a regular basis, you know that you can expect a high standard of clean.
We clean high-touch surfaces in your home every time we visit and follow a number of safety protocols backed by decades of shared cleaning expertise from Merry Maids® and the ServiceMaster Brands. Our team leaves you with a noticeably clean home—every time.
In some situations, though, an increased focus on disinfection may be warranted. Let Merry Maids of San Antonio ease your mind. For all of the high-touch hard surfaces you and your family come into contact with throughout the day, we can provide enhanced disinfection services to destroy bacteria and germs.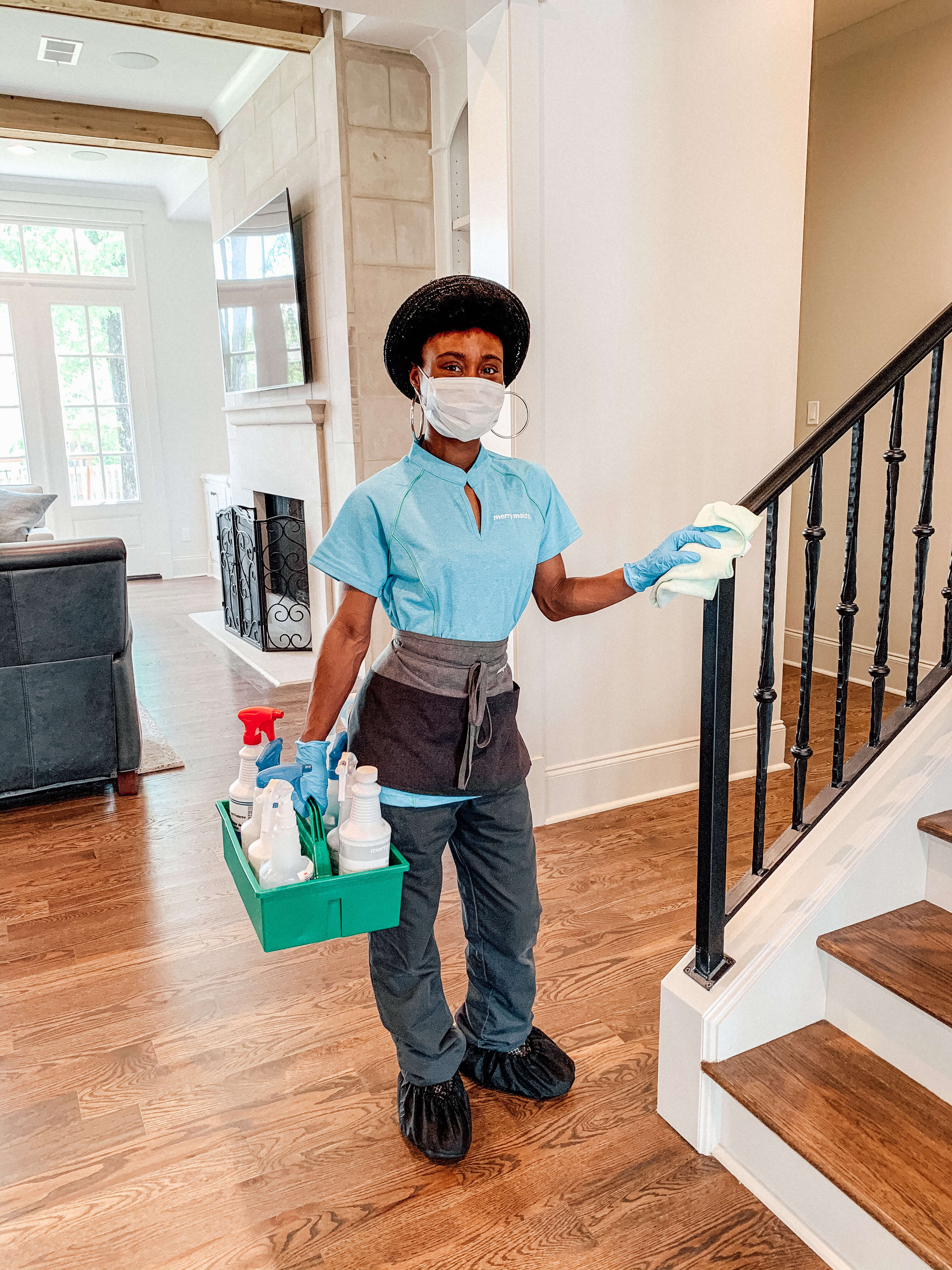 Industry-Leading Practices for Eliminating Bacteria & Pathogens in the Home
Drawing on the best-in-class processes from our sister brands ServiceMaster Clean and ServiceMaster Restore, both market leaders in their industries, we deliver top-tier solutions time-tested to give you the clean, healthy home you desire. Our team will zero in on germ hotspots and high-touch surfaces to give your home a complete disinfection treatment in San Antonio.
We'll be sure to disinfect high-touch surfaces including, but not limited to:
Light switches
Countertops
Doorknobs
Appliance knobs and handles
Hand railings
Tabletops
Remote controls
Toilet seats and handles
Is Disinfecting Important?
While everyday cleaning is often enough to keep germs and bacteria at bay, enhanced disinfecting is a focused effort on killing these organisms. Studies show that disinfecting high-touch areas can help prevent infection. When the situation calls for it, call on Merry Maids of San Antonio to provide home disinfection services from expert cleaning professionals.
Your home is your sanctuary, and you want to know that it's as clean and healthy as can be. When you entrust our team to take care of the cleaning and disinfecting, you'll have peace of mind knowing that our people are fully screened and expertly trained to leave your home as clean as can be.
When you want a cleaning company that uses enhanced disinfection practices in San Antonio, look no further! Contact us online or call (210) 774-6720 now to request an estimate.
Base Hours: 2 - 5
Includes: Dusting, Mopping, Vaccuuming, Windows
Merry Maids Recommends: Monthly cleaning