Maid Service in St. Augustine
Merry Maids Deep Cleaning Near You
Base Hours: 2 - 5
Includes: Dusting, Mopping, Vaccuuming, Windows
Merry Maids Recommends: Monthly cleaning
Do you have trouble finding the time to keep up with housekeeping tasks? Take back your time by calling a maid service that cares for your living space as much as you do. As a locally owned and operated business, Merry Maids of St. Augustine is dedicated to serving our clients and the larger community.
Friendly Professionals & Superior House Maid Services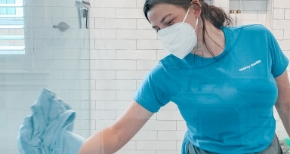 We're proud of our outstanding reputation. For your peace of mind, our team members are fully bonded and insured. Merry Maids is accredited by the Better Business Bureau, and we've earned the Women's Choice Award from WomenCertified. When you trust your living space with our St. Augustine and Palm Coast maids, you can be confident that you'll have a completely clean home. Just the way you want it.
At Merry Maids of St. Augustine, we know clean homes. We'll dust, mop, sweep, and hard surface disinfect so that your living space looks neat and smells great, and our products will be safe for the environment. We provide regular cleaning as well as one time cleaning services for homeowners who want to reclaim order in their home.
Call us at (904) 507-4961 to request your in-home estimate for cleaning maid services in St. Augustine!
come home to more Request Your Free Cleaning Estimate Now!